MBW is proud to sell bikes from

Black Mountain Cycles
you've never followed the crowd, why should your bike?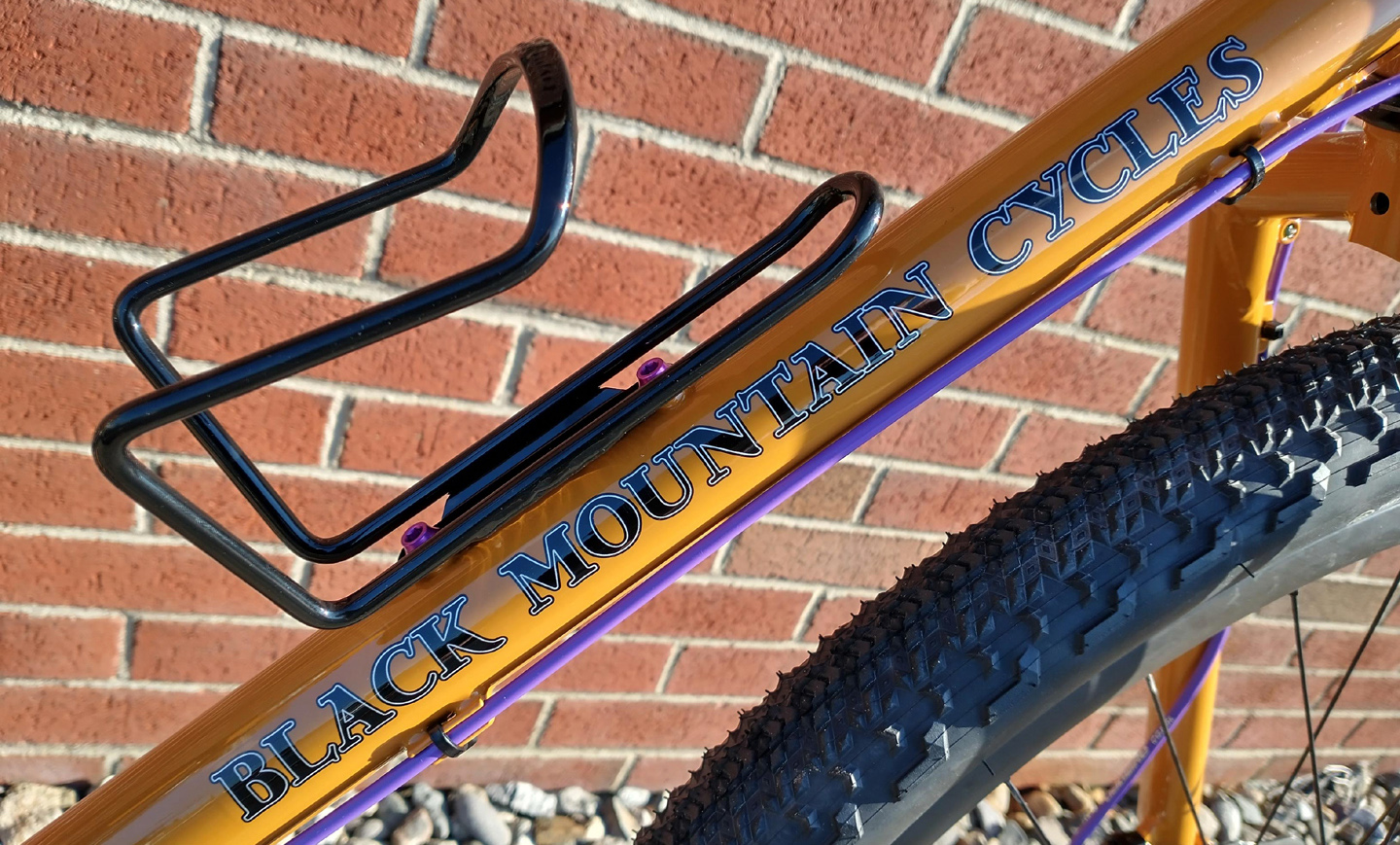 we dig what a certain one-man-band bike shop is doing out in California
if you have big touring and bikepacking plans and prioritize comfort and utility in your n+1 then check out Black Mountain Cycles.

based out of a little bike shop Point Reyes, California just a little north of San Fan, BMC is a very unique bike company. as a one man band, Mike has been designing the ultimate in comfortable adventure bikes for quite a few years now all while pumping tires and running a full service bike shop. so when we say we dig the frames he sells, a large part of that comes from knowing that he approached the design of them from both the perspective of a rider AND a bike mechanic. this makes working on and building up bikes based on their frames, suuuuuch a pleasure to work on.

though Mike's continuously tweaking and evolving his line of bikes, the two which are the most popular for our New England adventurists are the bikepacking and monster gravel La Cabra and the gravel and smoother surface touring capable Road+. As much as we have loved building up Road+'s over the years, we are eagerly awaiting getting our hands on the bike that Mike will be releasing in the Spring of 2023 called the Mod. Zero if the rumors are true, the new frame will be taking everything we loved about the + and bringing it into an even more versatile / comfortable platform to ride for those adventures when the La Cabra is just too much bike to invite to the party.

check out Black Mountain Cycles's website and let us know what strikes your fancy. we order in their frames and sell them to you for the same price as if you bought one from BMC HQ directly. we'll then build it up using all the parts that we collaboratively choose with you specifically for the adventures you have in mind. it's worth noting that while Mike will also build you up a killer complete bike from a frame and send it to you in a box, we like to think we can bring a little sumpin' sumpin' to the process that will make you want to tap into our own knowledge of how folks ride and gear up their adventure bikes here in New England. if we build it for you, we'll rock you a terrain specific BMC and be the place in the know to keep it maintained over the years. alternatively, if you prefer to get greasy, we can also sell you a bare frame you can build up at home.

so, read on, enjoy the pics and let the Point-Reyes-themed-dreams begin!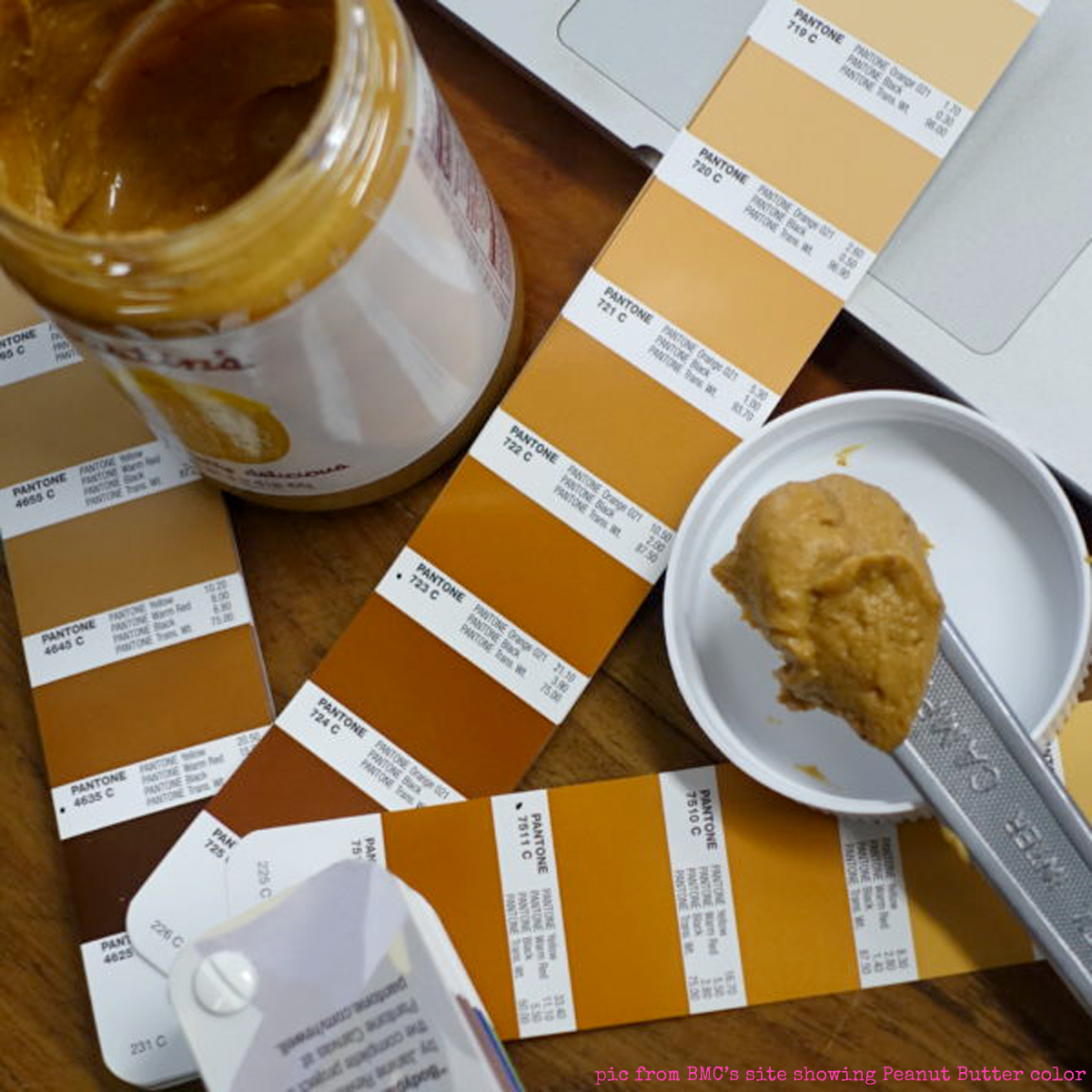 BMC model #1: La Cabra
no surprise that a frameset whose name means 'The Goat' was designed for going anywhere while carrying everything, but what is surprising however is just how nice of ride it has when you don't have it loaded down with four panniers worth of stuff. our initial thoughts about La Cabra's were that they would make damn nice bikepacking bikes on rougher surfaces, but when we started getting requests to build them up with a more road feel (slicker and skinnier tires) we quickly realized that what they really are a super comfortable bike to sit upon for hours on end no matter the terrain. we love the way the higher stack of the frame and the uncut steertube of the folk allows us to really dial in a customer's cockpits. Put some fat Rene Herse tires on the bike and you can totally do long road and gravel rides on them or max out that tire capacity (2.8" on 27.5" rims! and 2.4"-2.5" for 29ers!) and point the bike towards whatever trail you fancy. we can advise you of which rim / tire combo and tire widths would be best suited for your needs, but if you're like most La Cabra owners you'll quickly start thinking about having a couple pair or tires around the house to suite whatever days riding plans you have in store when the alarm goes off. bikepacking, gravel grinding, commuting or even riding coast to coast across the country, we've built them up for loads of different adventures.

here's a few of the different ways we've built up La Cabra's. the frame color may be the same between each (peanut butter!), but they all have their own character for the job at hand.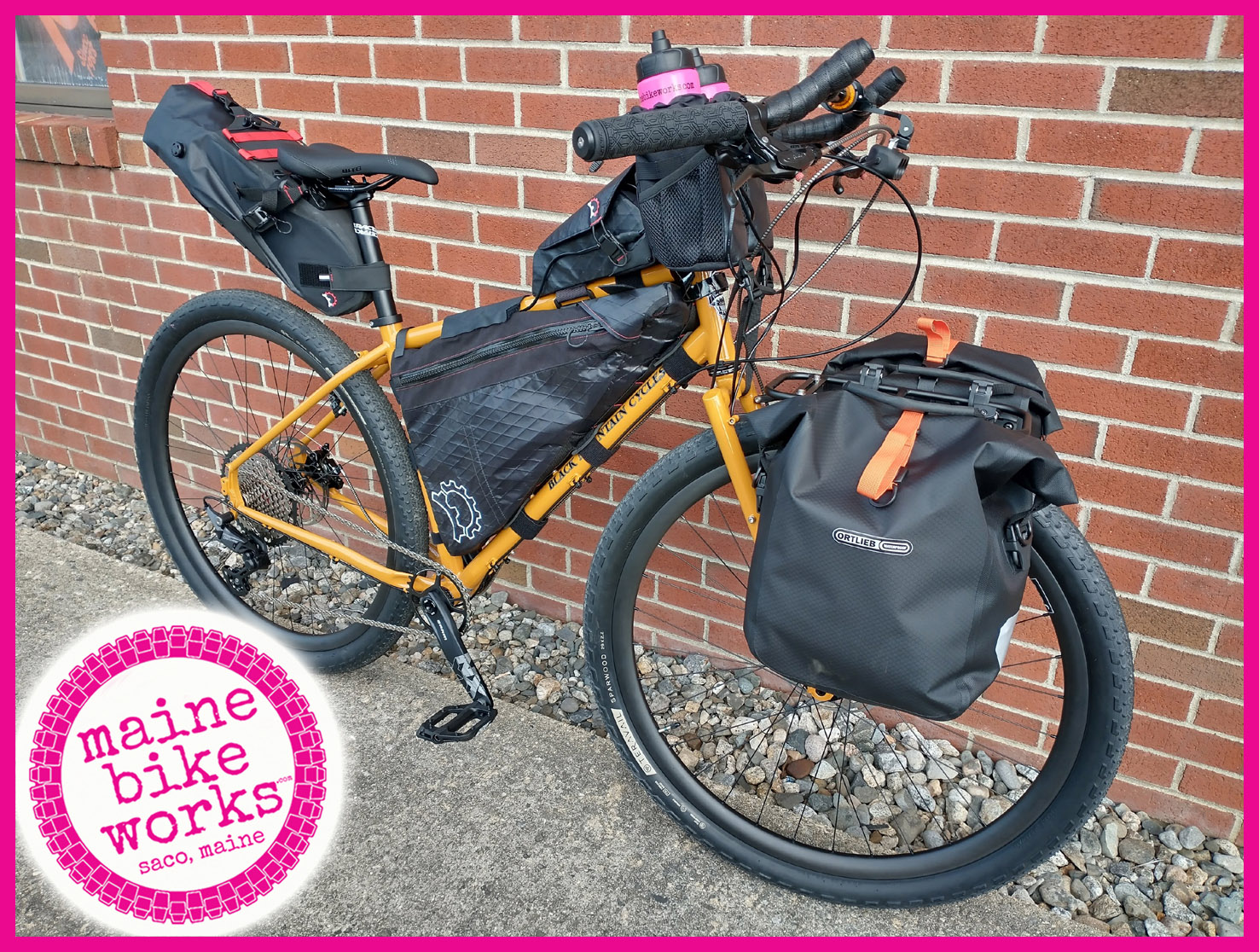 the world adventurer this beautifully bagged out La Cabra was built specifically for an adventurous gents plan to travel to different parts of North America and Asia. while he didn't know the exact terrain he'd be riding on, he knew that his Goat would be up for the challenge. We bagged it out with a mixture of Revelate Designs bikepacking bags (framebag, seatpack, magtank, feedbags), a Tumbleweed T-Rack in the front carrying Ortlieb gravel panniers, K-Lite lighting system with a K-Lite USB device charging box and multi-position Surly Moloko alt-bar. Super wide ranging gearing will minimize time spent pushing. an awesome bike someone could (and has been from last report) live off of.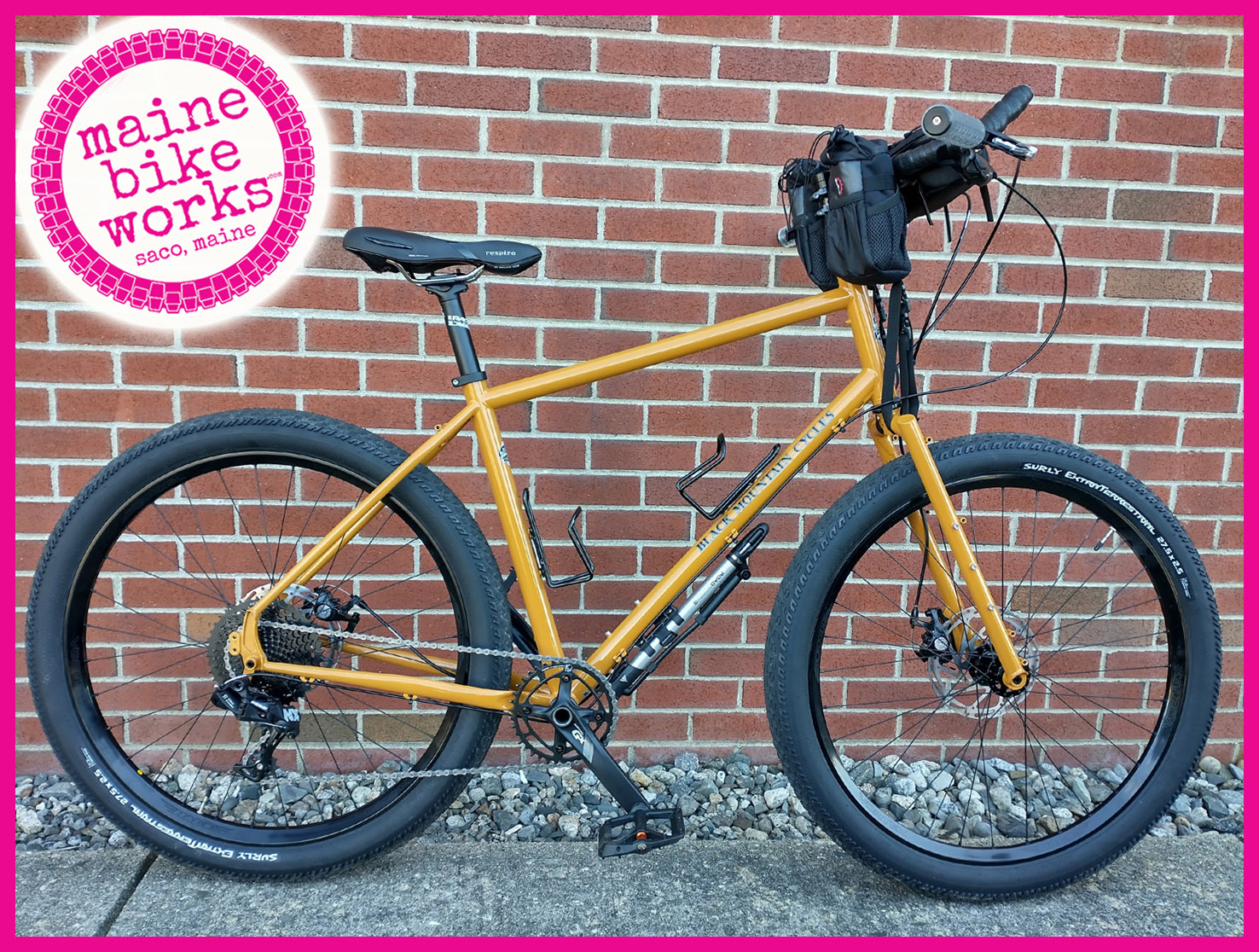 the Eastern Trail special: we built this La Cabra for a customer who saw another La Cabra we were building. he's been riding a a comfy upright riding Surly fatbike we built him 3 or 4 years ago for his fitness riding on the Eastern Trail and the roads here in Southern Maine, but when he saw the Goat he put two and two together and realized it could offer him a similarly comfortable riding position with the benefit of dropping 3-4 lbs a wheel over the fatty by running 27.5 x 2.5" tires. Wide enough to be surefoothed and confidence inspiring on the sandy sections of the Eastern Trail and super high protection against flats and wheel damage, but tons nippier and sportier than running a bike with 4.5" tires like his Surly. he loves to push big gears as bike riding is about all about getting his workout in so we bumped up the chainring size on our favorite crank so he's not as spinny as he would be when really wanting to put the hammer down.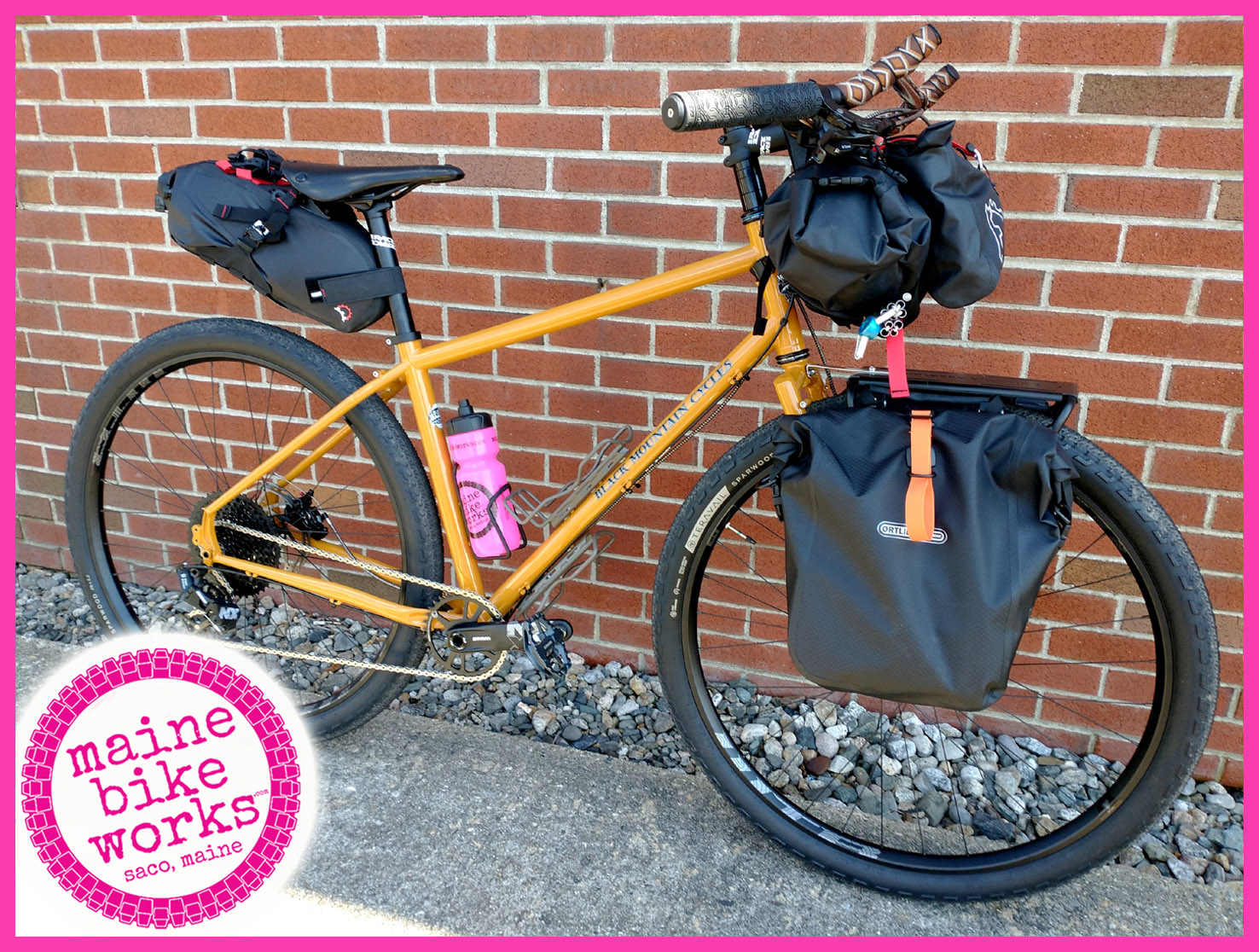 the cross country tourer: this particular Goat was build for a chap who flew into Portland with a gravel bike in a box planning to ride across the country. I typed 'planning' because when it put it together and loaded all his gear onto the bike he found it to be scarily unpredictable and wobbly to ride, so he limped down to us in Saco to see if we as touring bike focused nerds could help him out. unfortunately, even with the weight distribution changes we suggested and the tire pressure corrections, the bike was still seriously noodley as most racy gravel bikes would be, so we offer to build him up a no nonsense, totally comfortable La Cabra to transfer all his gear to and ride across the country. this pic is what the bike looked like when we handed it off to him and a few hours later he packed all his gear on it here at the shop and headed west with another customer he met. while we never heard if he made it all the way to the Pacific Ocean back on the west coast where he lives, we know that the way we specced out that particular Goat allowed it to feel predictable and steady at speed even with carrying the kitchen sink.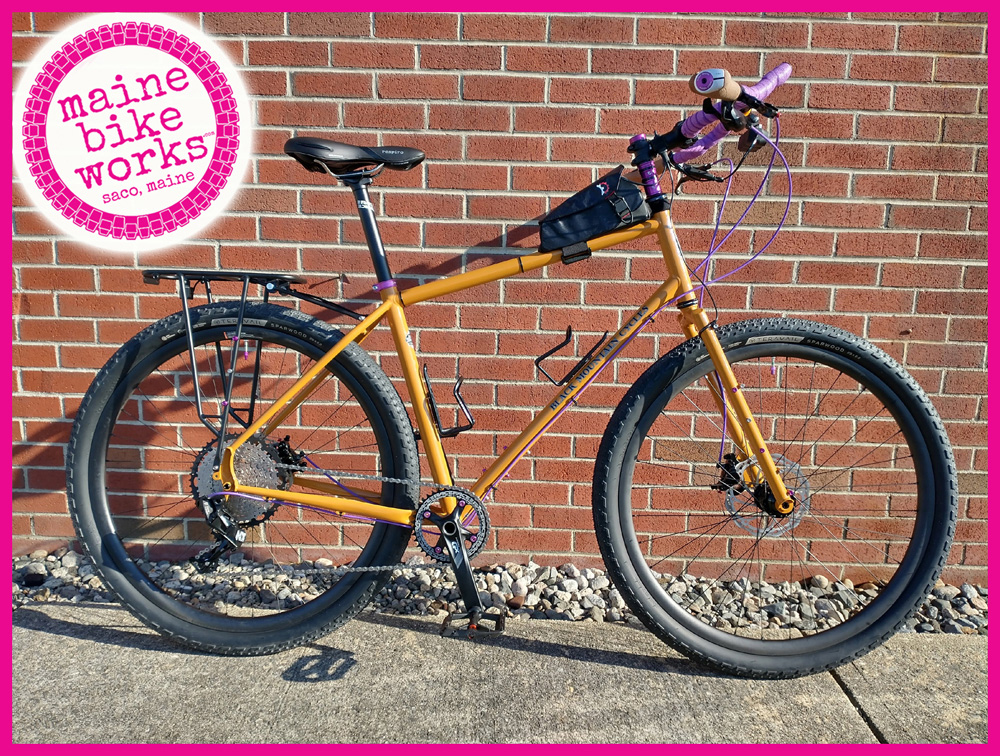 the local commuter: we already mentioned La Cabras make great touring bikes, but they also make great commuters for those of us who want to be able to run a variety of tires according to the weather and season. the upright position we can achieve on a Goat allow us to stay heads up in traffic as well as sit and spin in comfort on those longer weekend adventures. you may spot this one scooting around Portland in all weathers with studded tires. we upped the chainring on the crank to give some bigger gears to push against when bombing down Munjoy Hill in the draft of a UPS truck. Carbon Jefe rims with a dynamo hub and K-Lite lighting and USB device charging box completes the build. mixed it with some purple accents on the frame and our customer dubbed the color scheme "Peanut Butter and Jelly."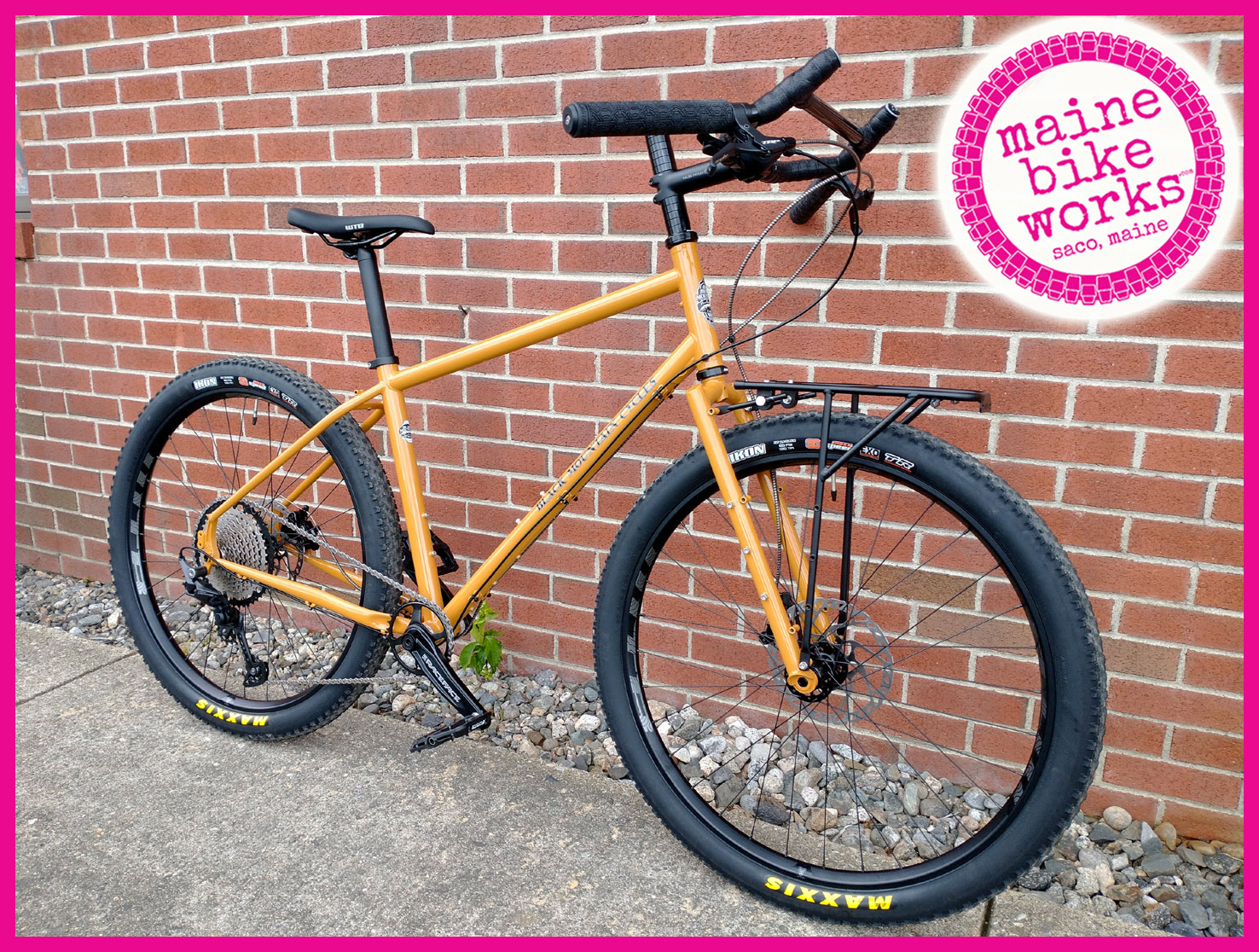 the bikepacker: we built this La Cabra for someone looking for the ultimate bikepacking rig. with big adventuring plans ahead in the coming years after retirement, we knew he needed something that would be comfortable to sit on and spin the pedals on for 6, 8, 10 hours day in and day out no matter if he stuck close to home bikepacking VT or further afield. we proposed a virtual build and when he heard the dark orangey color of the La Cabra was called peanut butter, he said sign him up as fate would have it his flying call sign was, get this... Peanut Butter. fate?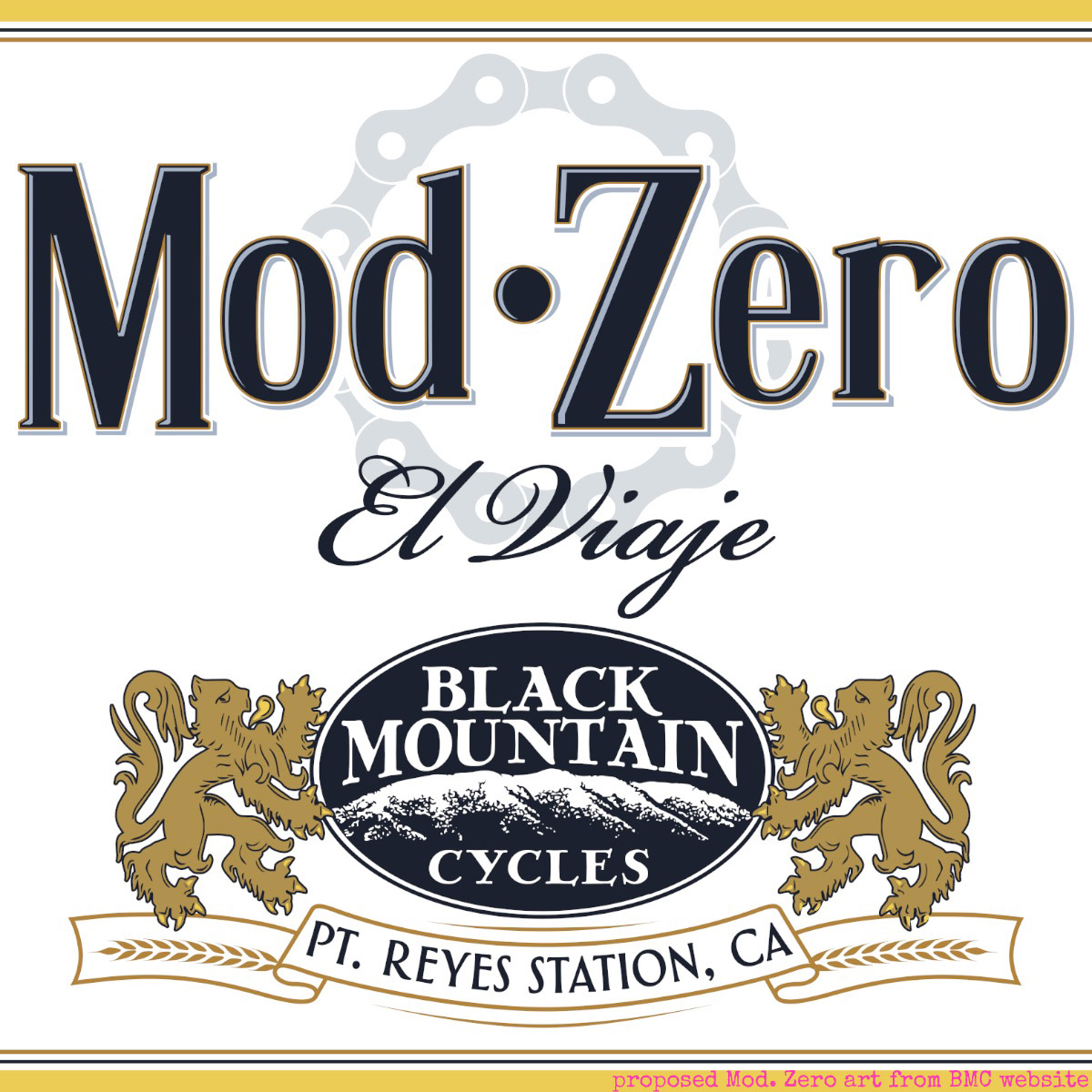 BMC model #2: Mod. Zero
this is an upcoming frameset from Black Mountain Cycles and one we're eagerly looking to check out. while the La Cabra makes a great swiss army knife of a bike that can ride roads, gravel and mountain bike trails, it's firmly in the adventure bike camp. for those rides which don't require as much beef built into the frame, we're thinking the Mod. Zero will be just the number. from the looks of it and our experiences with its predecessor the BMC Road+, it should be an excellent go fast, go far bike that will allow the rider to put the cockpit high enough to give a position for all day comfort.

keep an eye on Black Mountain Cycles social pages and their website for updates, but you can always reach out to us here at the shop as we too are eagerly awaiting their drop. last word was sometime Spring 2023, so not long to wait now!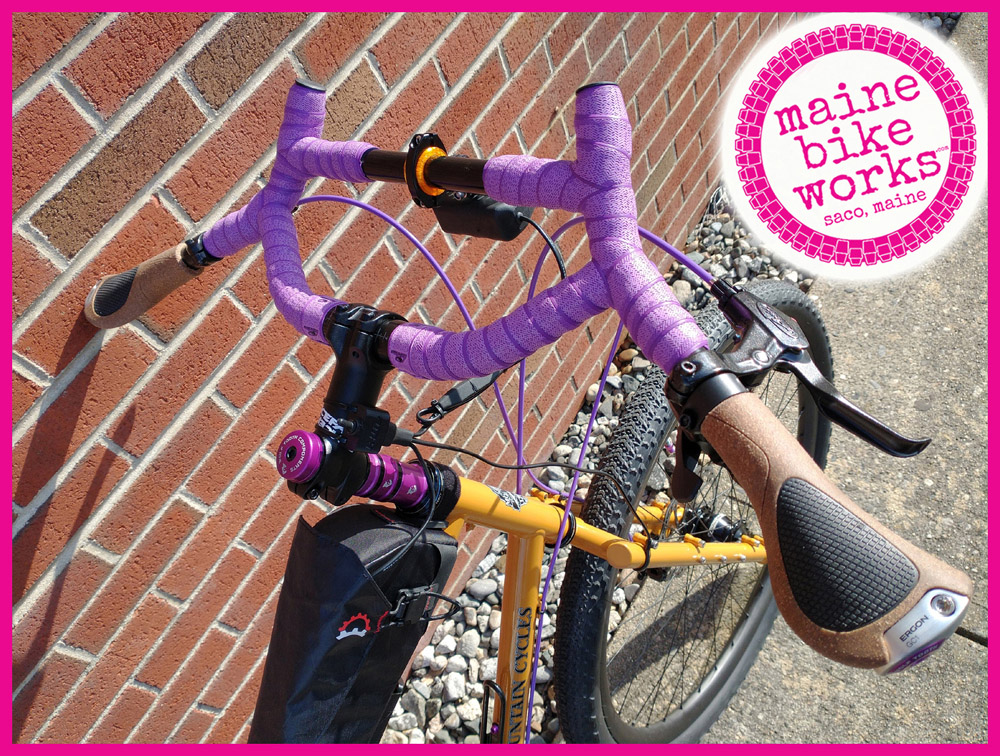 open to an alt-bar on your BMC?...
while we dig drop bars (either traditional road bike style curved bars or the newer style of ultra flared gravel and bikepacking bars), we also love building Black Mountain Cycles frames with the next gen of alternative bars out there that give the comfort and more upright positioning of a flat bar mixed with the multiple hand positions offered by drop bars. some of our favorite alt=bars include the Jones Loop Bar (we dig the ones with the built in rise), the spanking new version of the Velo Orange Crazy Bar (ie v.2) and our go to, the Surly Moloko Bar. we love em all and love showing folks all the different way to grip, tape and bag them out on their bike. check out the pic above and the two below for examples of a few different ways we've set up Moloko Bars on La Cabras or future Mod. Zeros...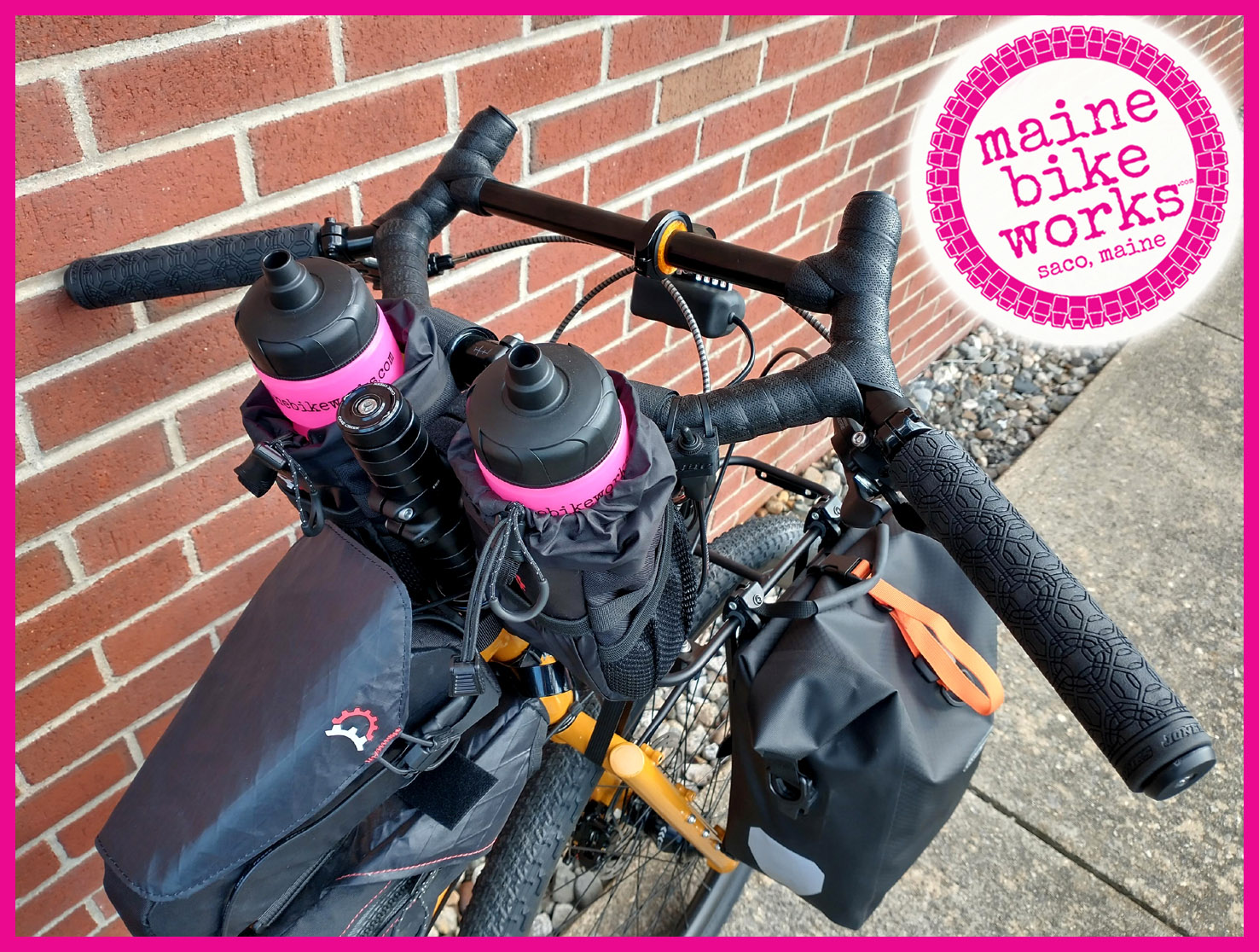 example Surly Moloko bar cockpit #1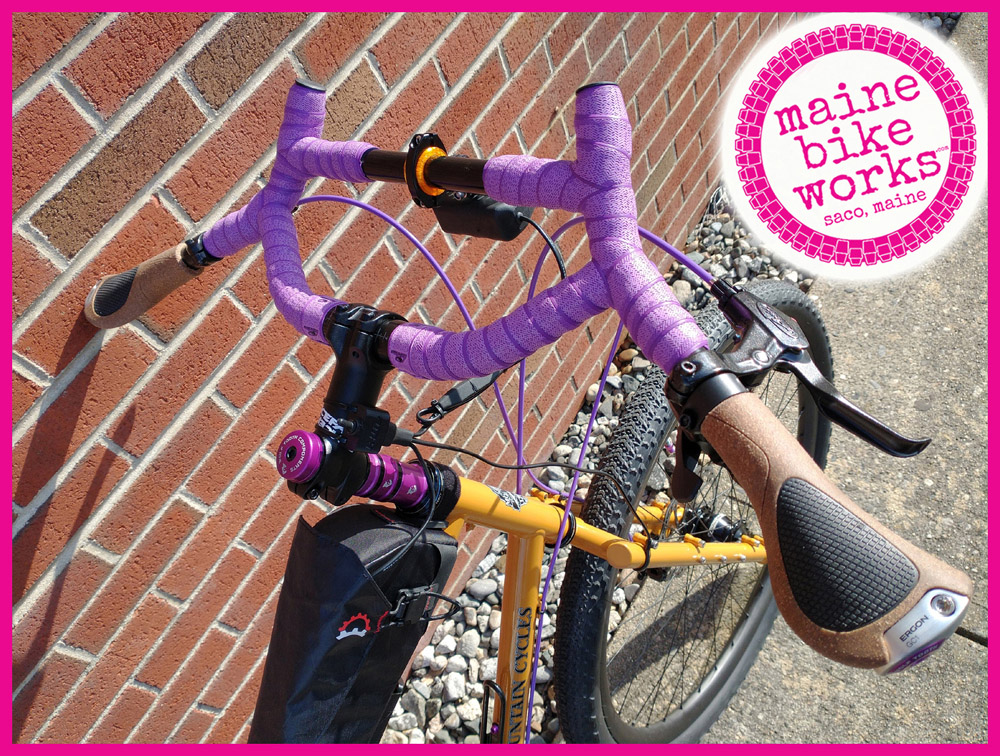 example Surly Moloko bar cockpit #2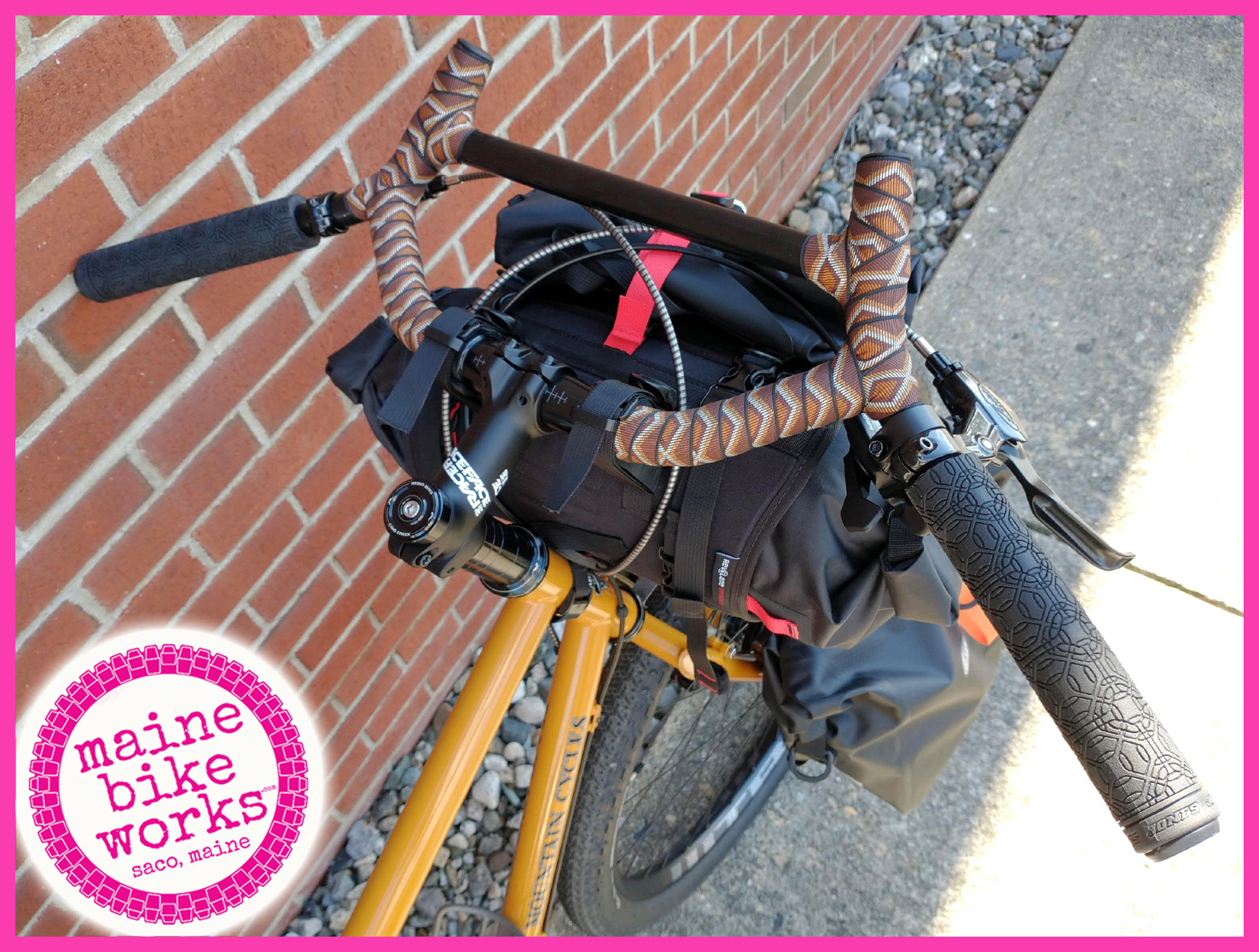 example Surly Moloko bar cockpit #3
the BMC rabbit hole
the next time you're sitting at a desk and pretending to work, get up-to-date with all things Black Mountain Cycles with the following resources: