MBW is proud to sell bikes from

Tumbleweed Bicycle Company
you've never followed the crowd, why should your bike?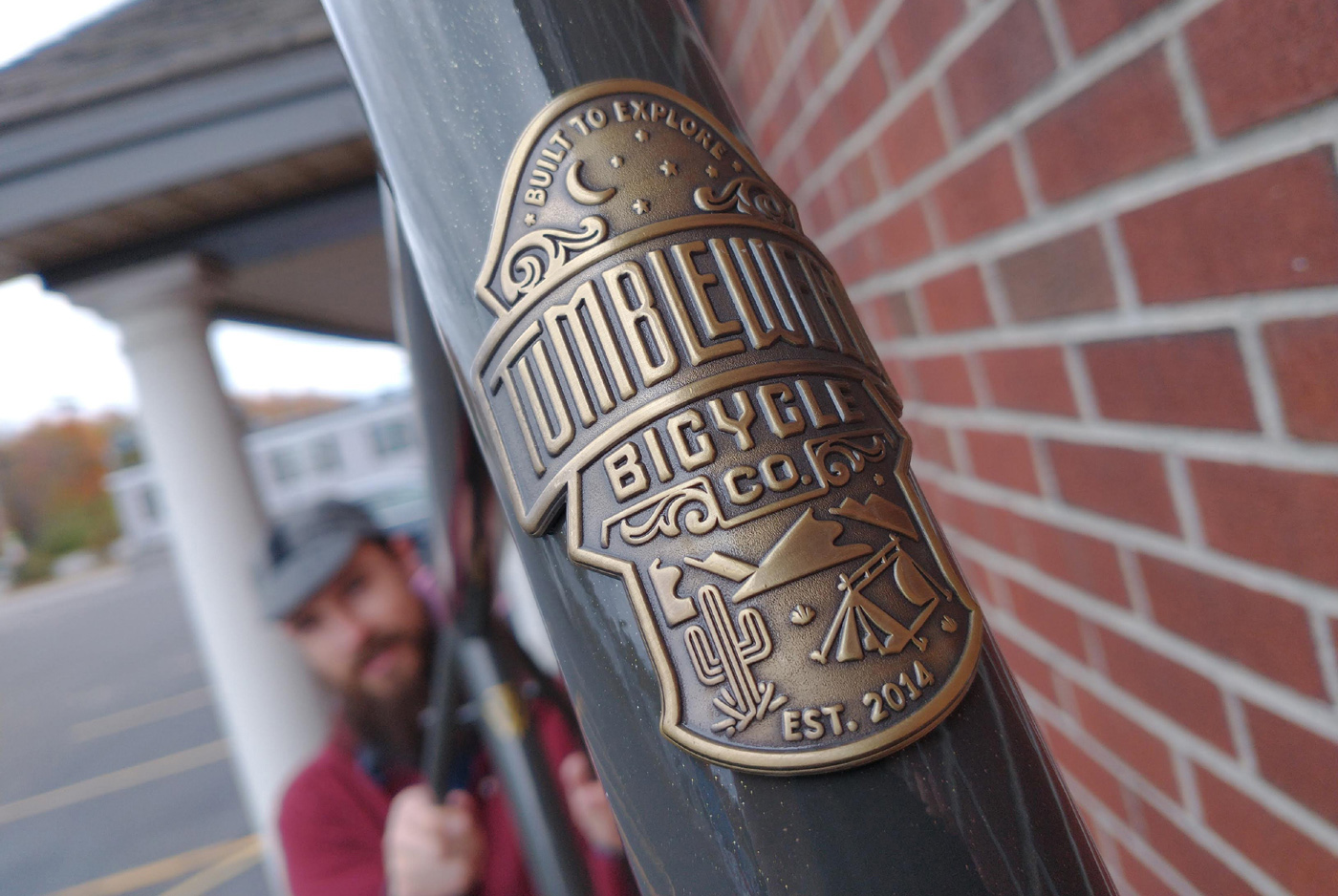 Idaho to Maine to under your butt
if you have big touring and bikepacking plans and prioritize comfort and utility in your n+1 then check out Tumbleweed Bicycle Company's website.

based in Idaho, Tumbleweed is a free-spirited band of two-wheeled adventure enthusiasts that designs bikes to be lived on. founded by an awesome guy name Daniel back in 2014, Tumbleweed has gotten the reputation as the bike brand you check out when you need a rig you can live on for days on end. today they offer two main bike models and a host of great adventure focused parts to hang on them. not only do they make some of the nicest frames that we work with, but they also make the best racks to let you strap gear to your bike as well as some of the most comfortable (and well thought out) flat bars to hold onto for hours on end.

Daniel started the company with the now famous Tumbleweed Prospector off-road touring bike. The Prospector quickly gained the reputation as the bike you wanted to be riding when your tour left the edges of the map. with super generous tire clearances (up to 4"!) and a frame designed to run a Rohloff internally geared Speedhub for the ultimate in reliability, it's no wonder that Prospectors are such hearty rigs.

then in late 2022, Tumbleweed introduced their second frame model called the Tumbleweed Stargazer. winning numerous Bikepacking.com bike of the year awards the Stargazer was quickly regarded as having the gold standard for geometry and design for the latest generation of bikepacking and adventury monster gravel rigs.

we love building up both models and if you don't which one you should be looking at, just get in touch and we'll let you know the one best suited for the adventures you have planned. same goes for sizing as we'd love to help you figure that out too. while we're at it, we might as well mention that you can also ask Tumbleweed HQ to build you up complete bike too and ship it right to your doorstep. while we love their builds, we think can build you up a bike that you'll love not only on your big round-the-world or down the Divide adventures, but also a bike that will knock your socks off for the everyday riding you'll be doing here in New England. we like to tell folks we offer the ultimate in choice as we have zero limits as which parts or accessories we might propose for a build customized for a customer's particular adventures. we also provide future service on bikes that we build which means the same hands that built your bike will be keeping you up and riding over the years. generally, there isn't much (if any) price difference between buying a complete bike from Tumbleweed HQ when all's said and done. if you choose us to build your bike, we'd love your business and look forward to helping you gear up for your future adventures.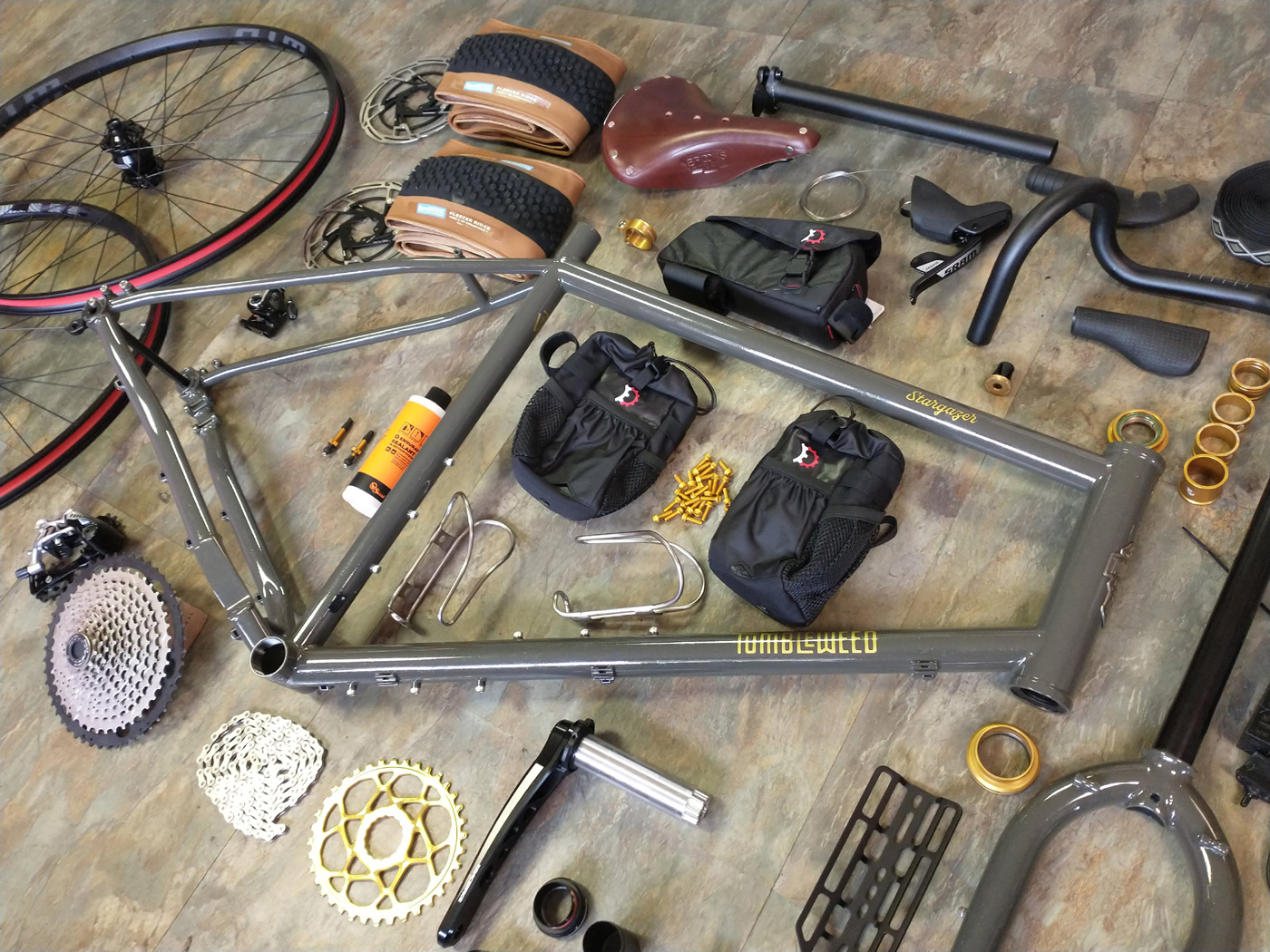 Tumbleweed's newest model: The Stargazer
need a go anywhere, bikepacking and monster gravel bike you can live aboard when you finally retire and have time do that big adventure? if so, check out the Stargazer.

there's a reason it was voted both Bikepacking.com's bike of the year by both its editors and in its readers award. with a spectacular geometry and a fork with an uncut steertube we have all the right tools at our disposal to ensure that we'll be able to get you comfortable on your 'gazer. while most folks would probably run them with modern flared drop bars, we can also set you up to run with super comfy and practical alt-bars like Tumbleweed's own killer Persuader bar, or even alt-bars like Surly Molokos, Jones Loops or the v2 flavor of Velo Orange's Crazy Bars. with ton's of wheel and tire choices out there these days you can meat bike out with tires as wide as 2.6" in the 29er diameter or 3.0" in 27.5" diameter. throw on some 29er rims with slick 2.2" tires (Rene Herse anyone?) and you've changed the bike into monster gravel mode (loaded or unloaded) for all day comfort on hard packed surfaces. about the only limitation we tell folks who choose stargazers is that they weren't designed to be run with a suspension fork (no big whoop) and you'll need to stick to 1x drivetrains - meaning we'll spec you out a crank with a single ring and the gearing appropriate for the the type of riding you plan to do the most of - though with a quick change of the front ring and potentially a longer / shorter chain, you can quickly gear it up for that trip to the eye-wateringly steep mountain trails in VT while you want to carry the kitchen sink. super comfortable to ride and a great frame to look at as well. take a look at some of our favorite ways to build them below and read some of the reviews at the bottom of the page to learn why we love building them so much. oh yeah, plan on getting a pair of Tumbleweed's racks for the front and rear to really unlock their full potential.

here's a few of the different ways we've built up Stagazers. they all use the same frame platform, but each has been outfitted with parts and accessories for the job at hand. btw, I just noticed it, it looks like all the Tumbleweed 'gazers we've built to date have ended up having a K-lite USB charging and lighting system specc'ed as part of the build from day one. i suppose that only makes sense as both companies make the cream of the crop gear for our fellow nerds who don't want to compromise their adventures on anything but the most reliable equipment. we love building up Tumbleweeds and we'd love to build you up one with a full K-lite system too.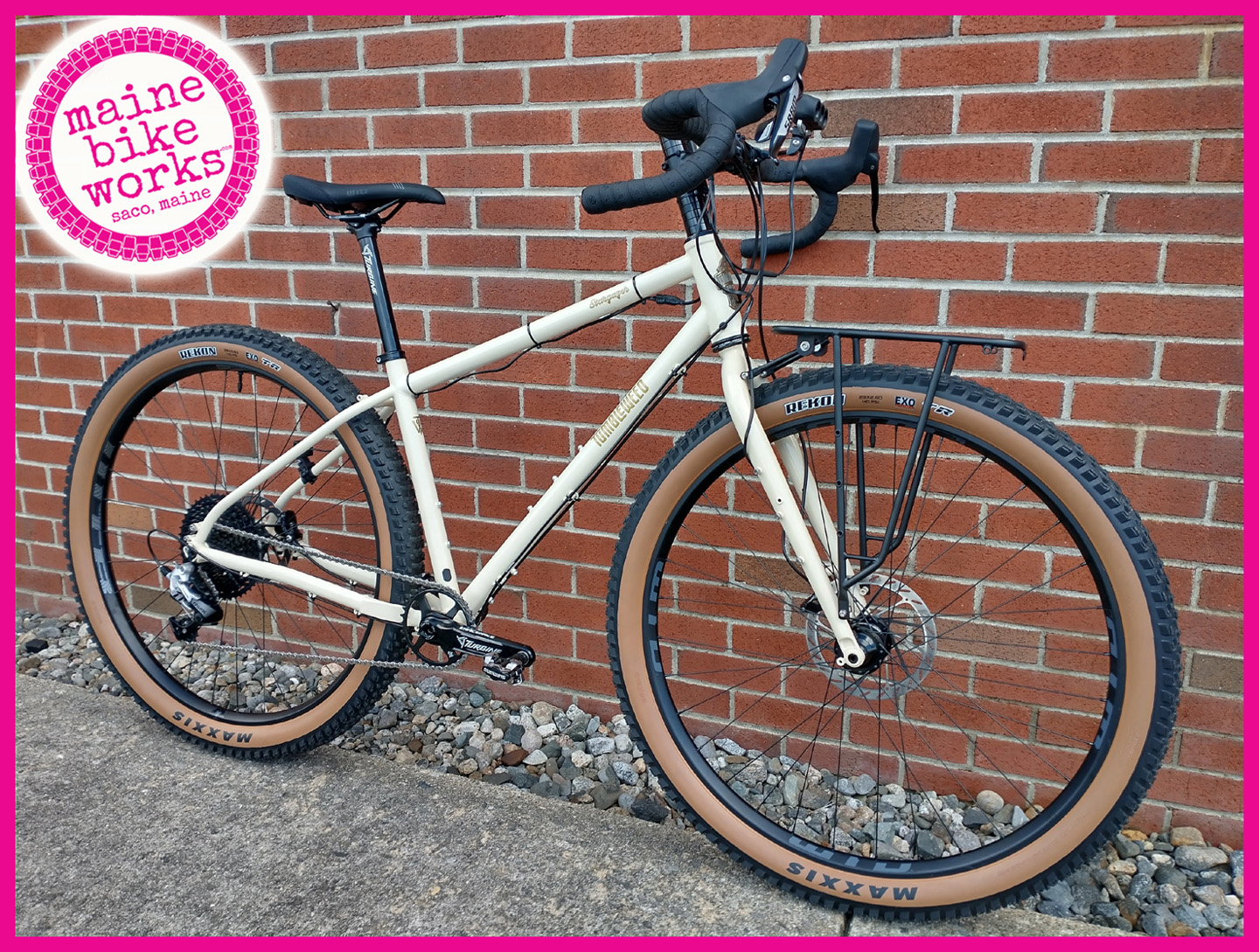 the monster gravel build: a lovely Bone colored Stargazer set up to be a monster gravel bike with the ability to go on chunky bikepacking rides. full K-Lite USB charging and lights front and rear round out this bike to be a real live-aboard rig.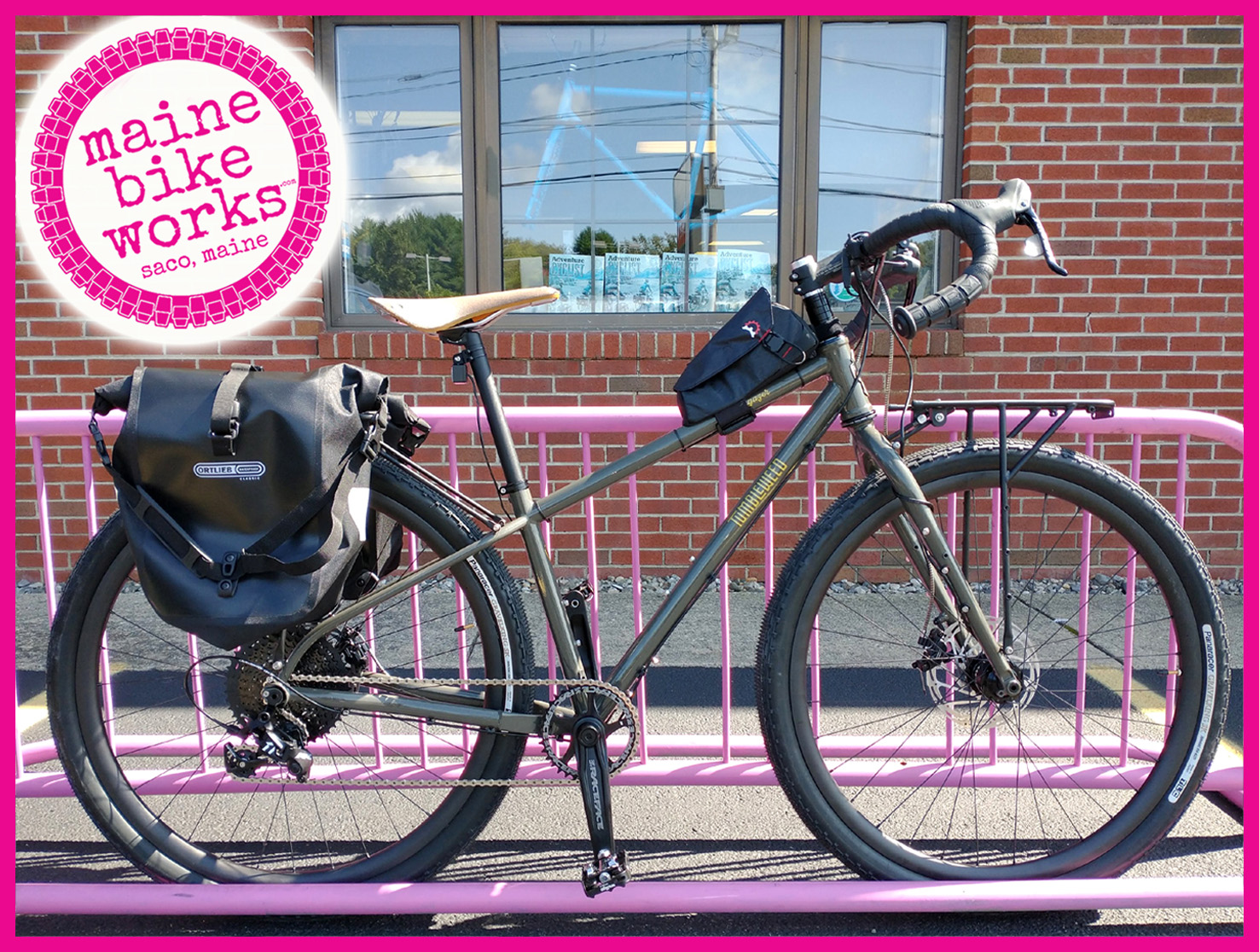 the full-bikepacker beast-mode: a Starry Night colored 'gazer with the full Tumbleweed treatment with front and rear T-Racks. dynamo wheel and full K-lite USB charging and lighting round out this super versatile build.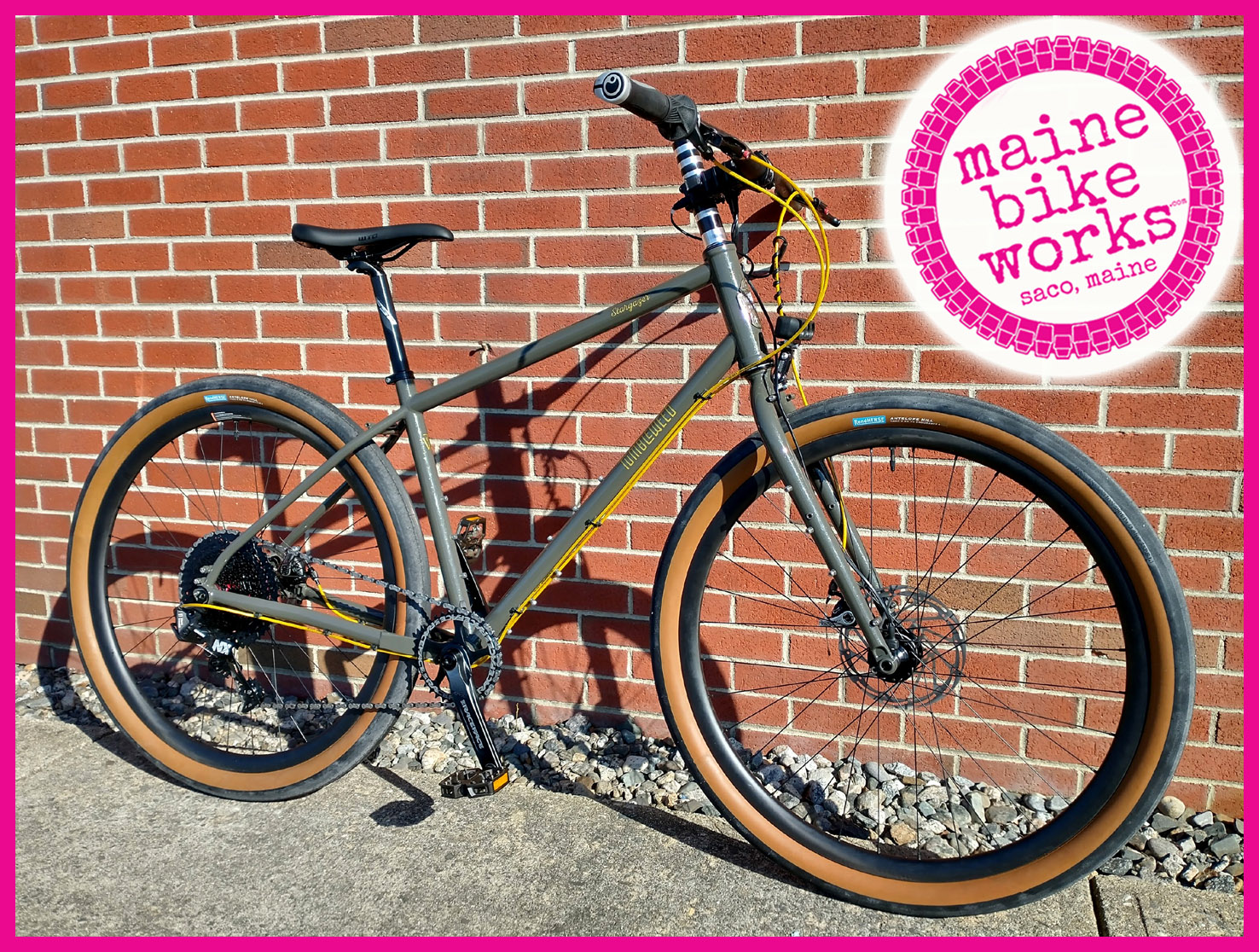 the flat barred Tour Divide machine: with future plans to ride down the full length of the Great Divide Mountain Bike Route, this lovely bike was initially set up with slick, suppler Rene Herse tires mounted on a carbon wheelset for fast rides locally and can be switched over to full bikepacking mode when the time comes to head out west. ready for New England adventuring today and riding down the Rockies with a change of rubber and the addition of racks or soft bikepacking bags.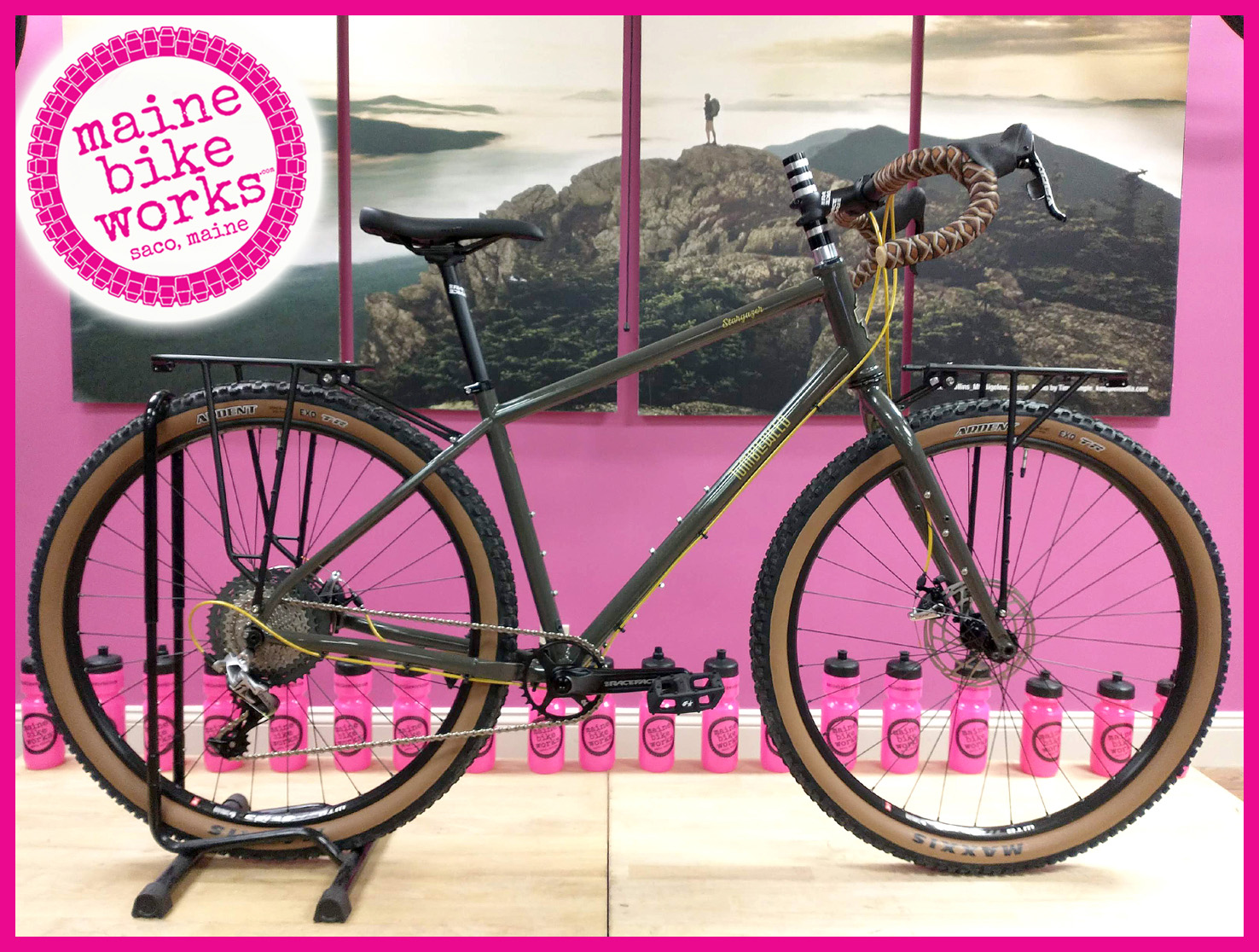 our go to build: if there was anything that is our 'stock' Stargazer build, this is it. everything we like about a build mechanically without any fancy proprietary or hard to maintain components to make on the trail maintenance a hassle. a great jumping of point for discussions on how we might build up a 'gazer for others.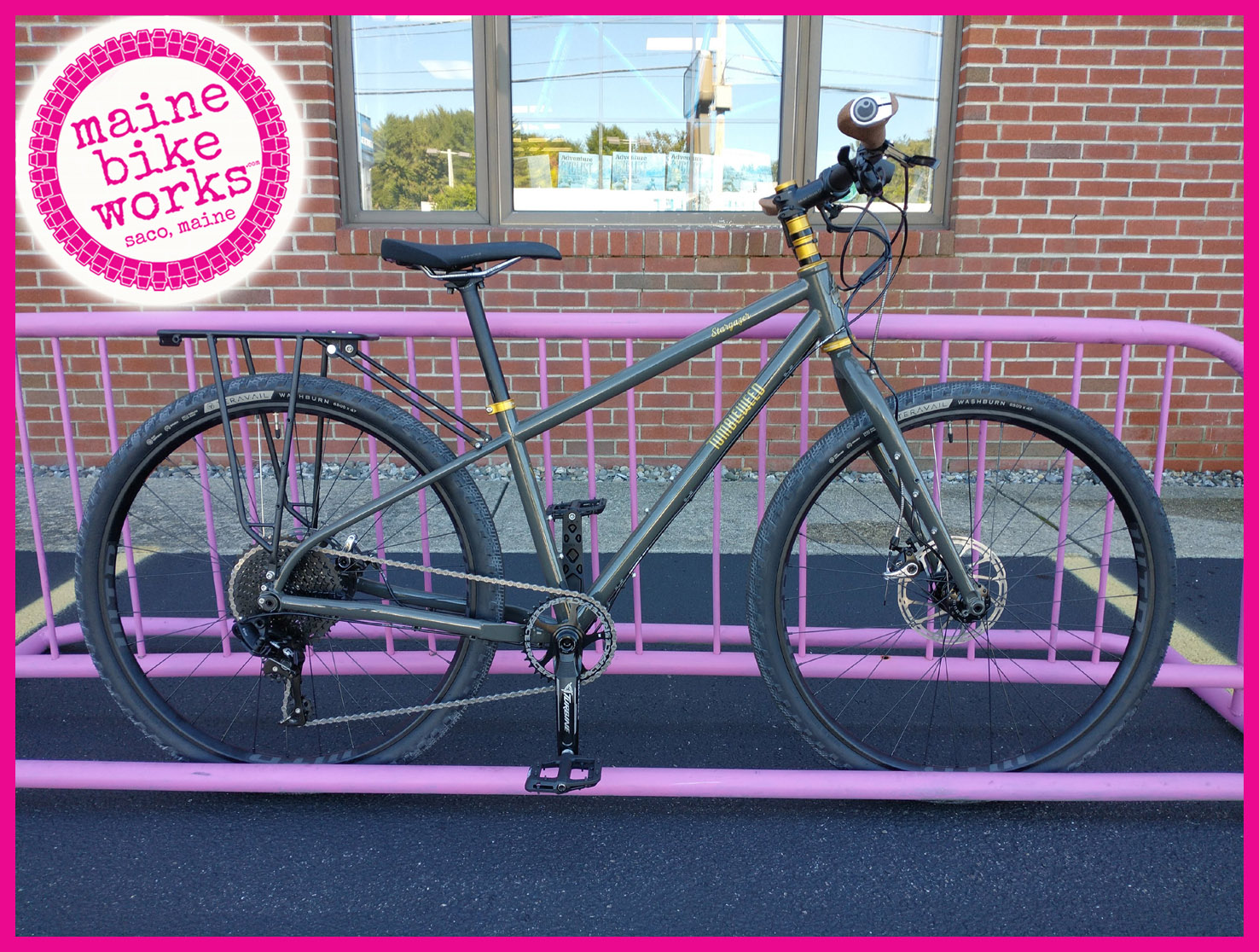 the fat barred fast packer: with parts chosen for being able to ride anywhere as fast and as long as the rider choose, this rig has been used through out New England and the west in both competative events and on personal adventures. heck, its even gone to the Great White North too.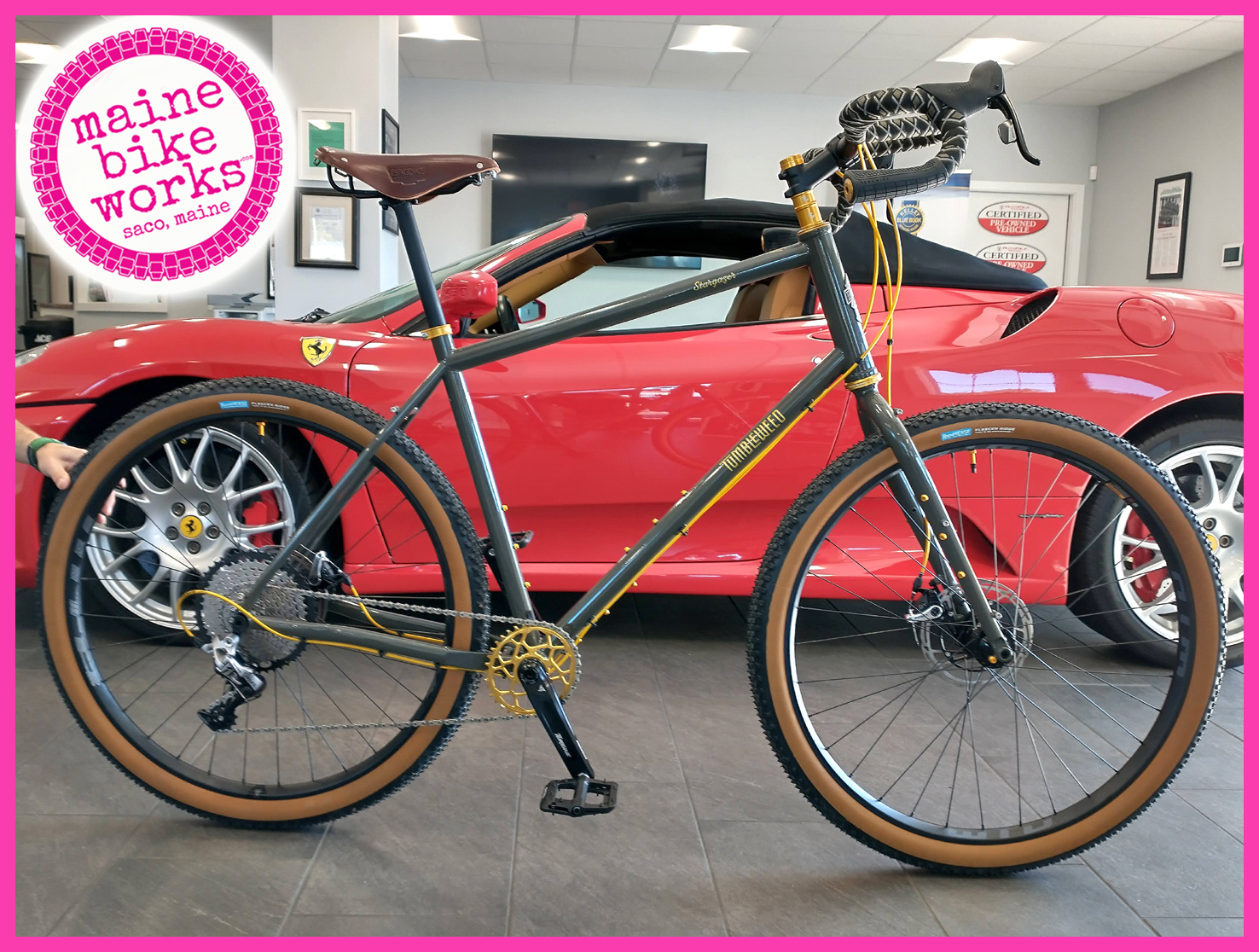 the New England bikepacker: for those who dig our 'stock' Stargazer builds, but who want to be able to personalize it a little, the build we did on this bike really kicked it up a few notches visually, while still creating an easy to maintain, highly pedal-able, bikepacking rig. with initial plans to take on the bikepacking routes here in New England, there are long term plans for this bike to do some adventure futher afield. the latest we heard it was head oversees on an epic European adventure for its first multi-week tour.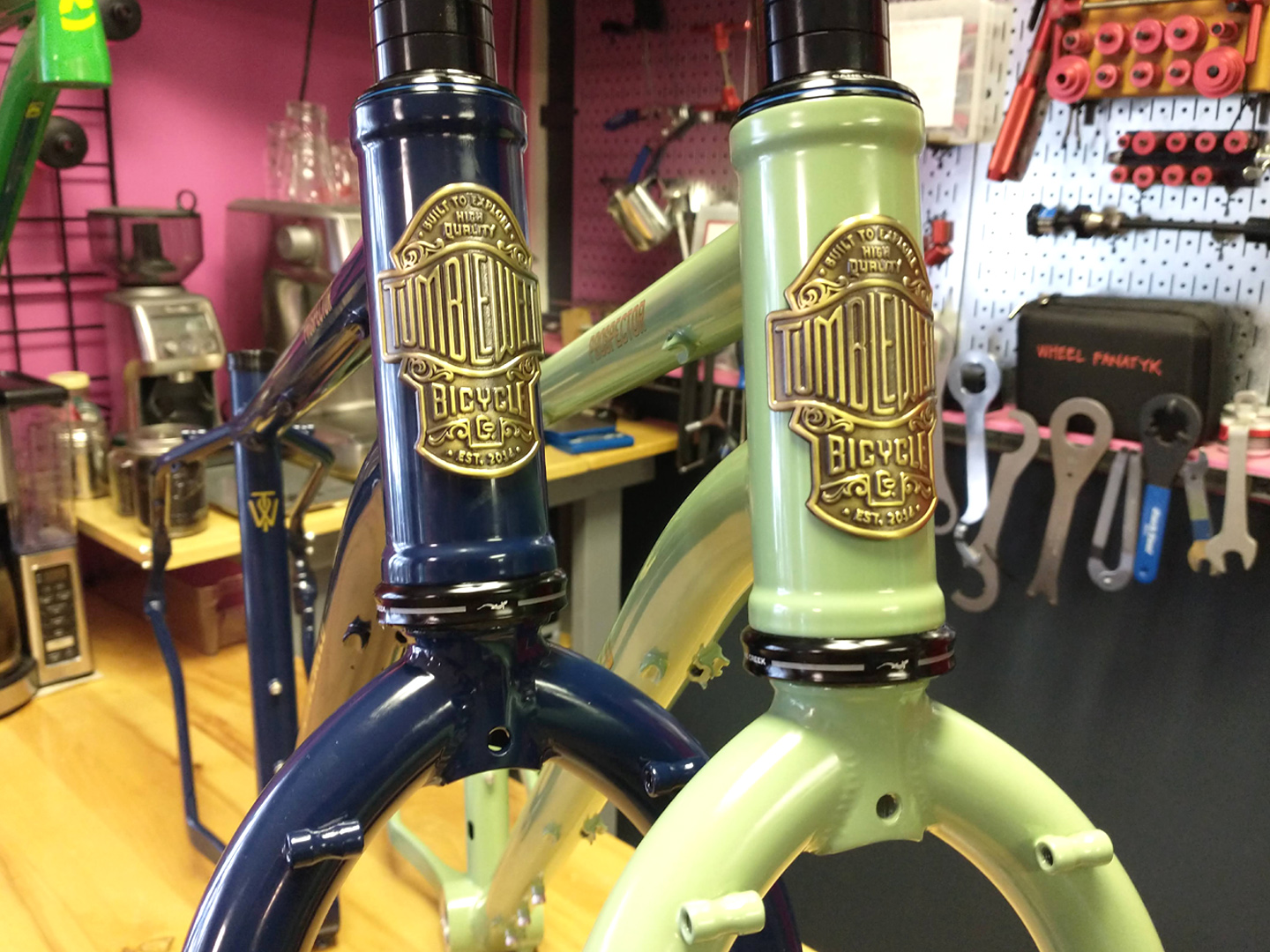 Tumbleweed's original bike: The Prospector
When your adventures don't include staying with the lines drawn on a map, look to a Prospector to take you (and the kitchen sink) to get you where you're going. while you could put a traditional derailleur'd drivetrain on them, we really only get asked to build them up with Rohloff internally geared rear hubs. by choosing a Rohloff, you gain access to some of the easiest gearing around and all the most vulnerable parts on a bike are hidden away inside that super burly rear hub. if dependability and jump-on-and-ride-ness is at the top of your priority list for your n+1, check out a Prospector. they come with Phil Wood eccentric bottom brackets to make running the Rohloff rear wheels with a chain easy-peasy. same goes for wheel and tire choices as you can pretty much run anything you want as long as it's chunky widthwise. we've built them with in 26x4.0" as a skinny Q-factored fatbike, 27.5x2.8-3.8˝ mixed surface touring rigs and 29 x 2.1-3.0 monster rolling mountain bikes. run a Tumbleweed Persuader bar on them for the ultimate in expedition control. dream up an adventure and I'm betting a Prospector could get you there. oh yeah, plan on getting a pair of Tumbleweed's racks for the front and rear to really unlock their full potential.

here's just a few of the different ways we've built up Prospectors...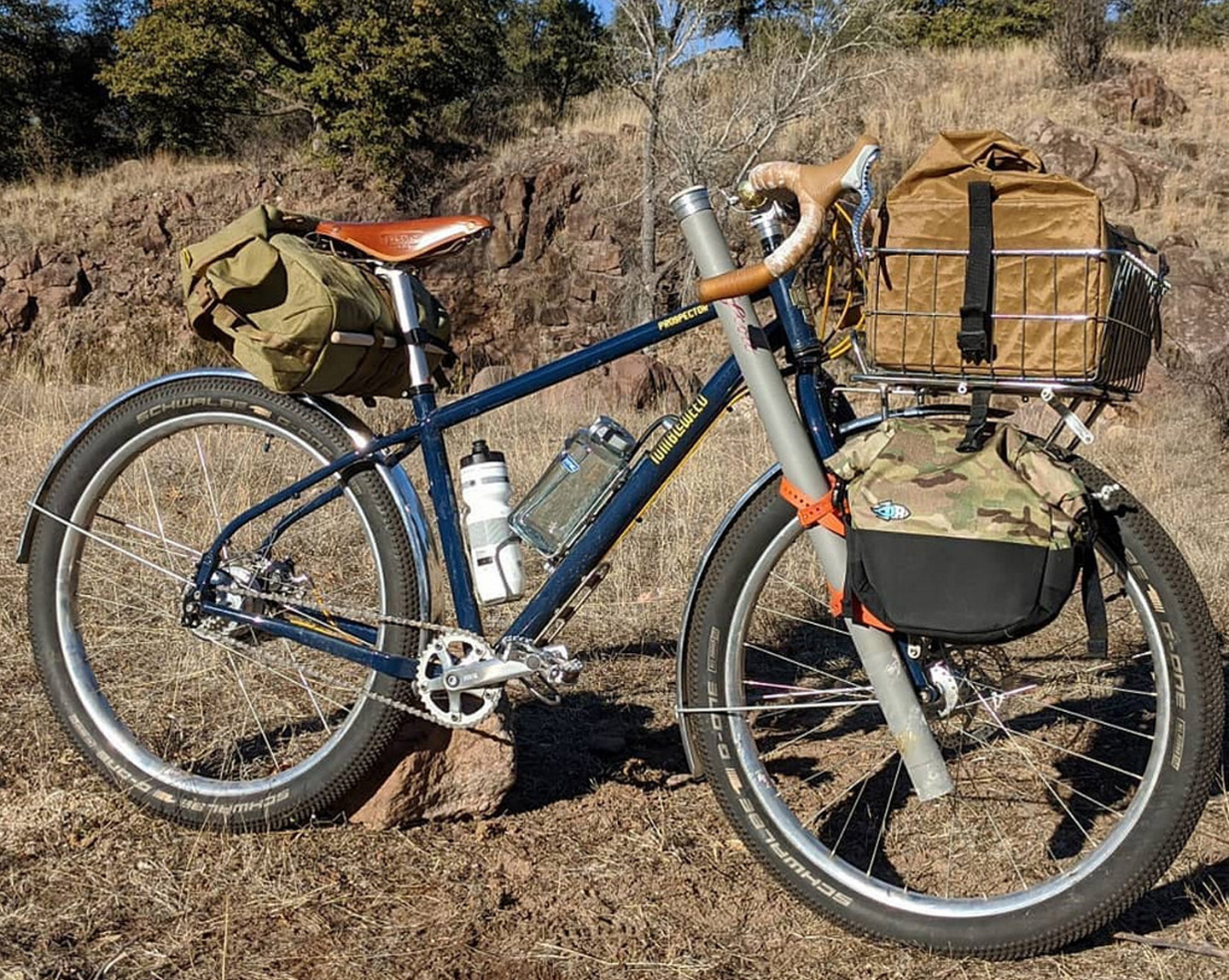 the firm surface tourer: this lovely drop barred Prospector (yup! drops!) looks and rides like a roadbike on steroids, but that lovely Rholoff drivetrain and wide (but slick) tire choice makes it a real mile-gobbler for when the fishing trips extend into the back country. this particular rig has been on so many adventures, that we'd a wikipedia page with of footnotes and the help of our customer to chronicle them all. a really unqiue build for a really unique and truly awesome owner - then again, I could probably say the same about all of our Tumbleweed owners!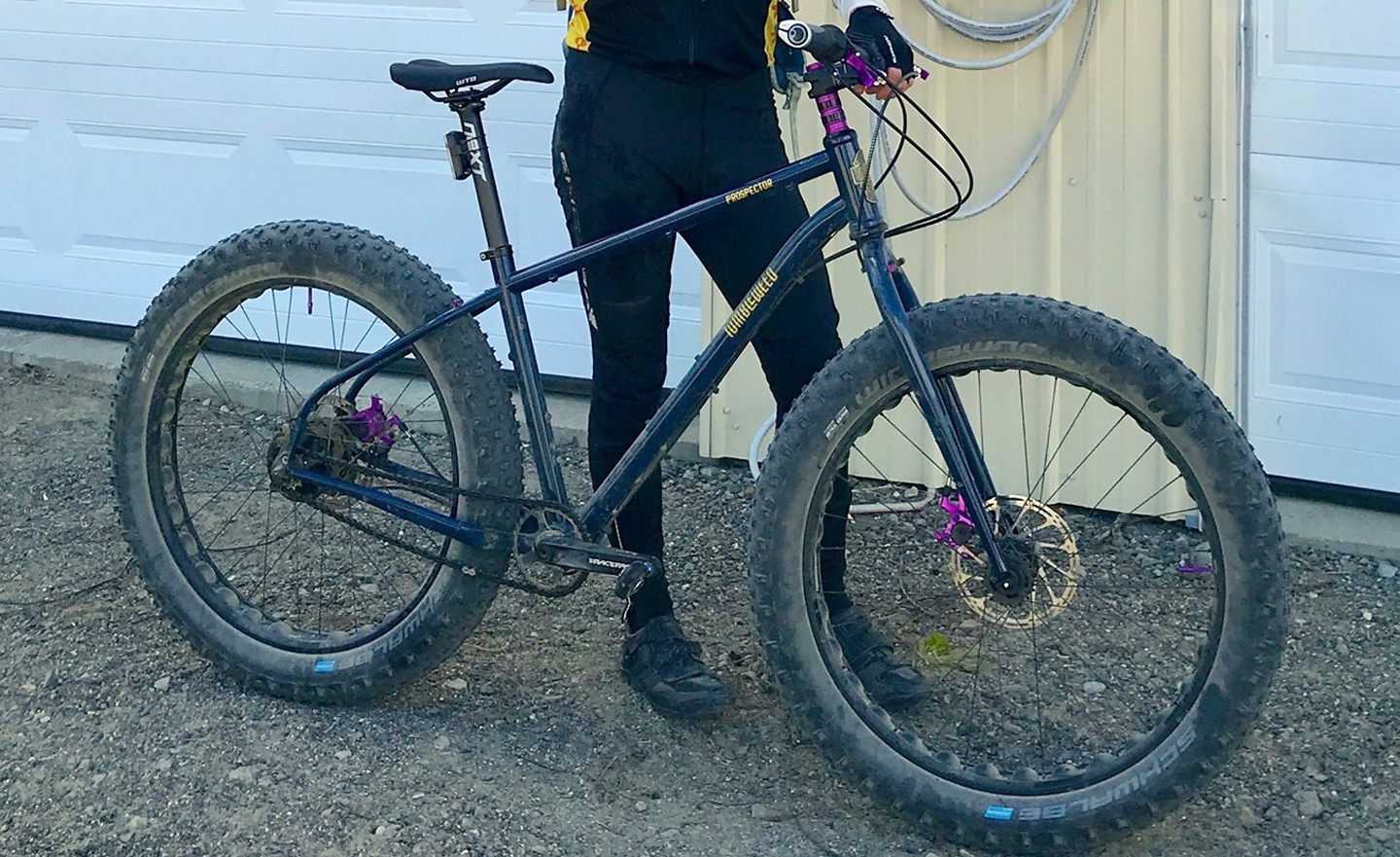 the easy pedaling fat bike: the remit on this build was to create a bike with a much narrower pedal stance (also called the Q-Factor) than a traditional 4" tired fatbike would have. with the internal gearing of the Rohloff rear hub and the go anywhere-ness of the fatbike tires, this bike was originally designed for the snow but has been used for all around mountain biking in the dirt as well as a bikepacking rig in the desert southwest.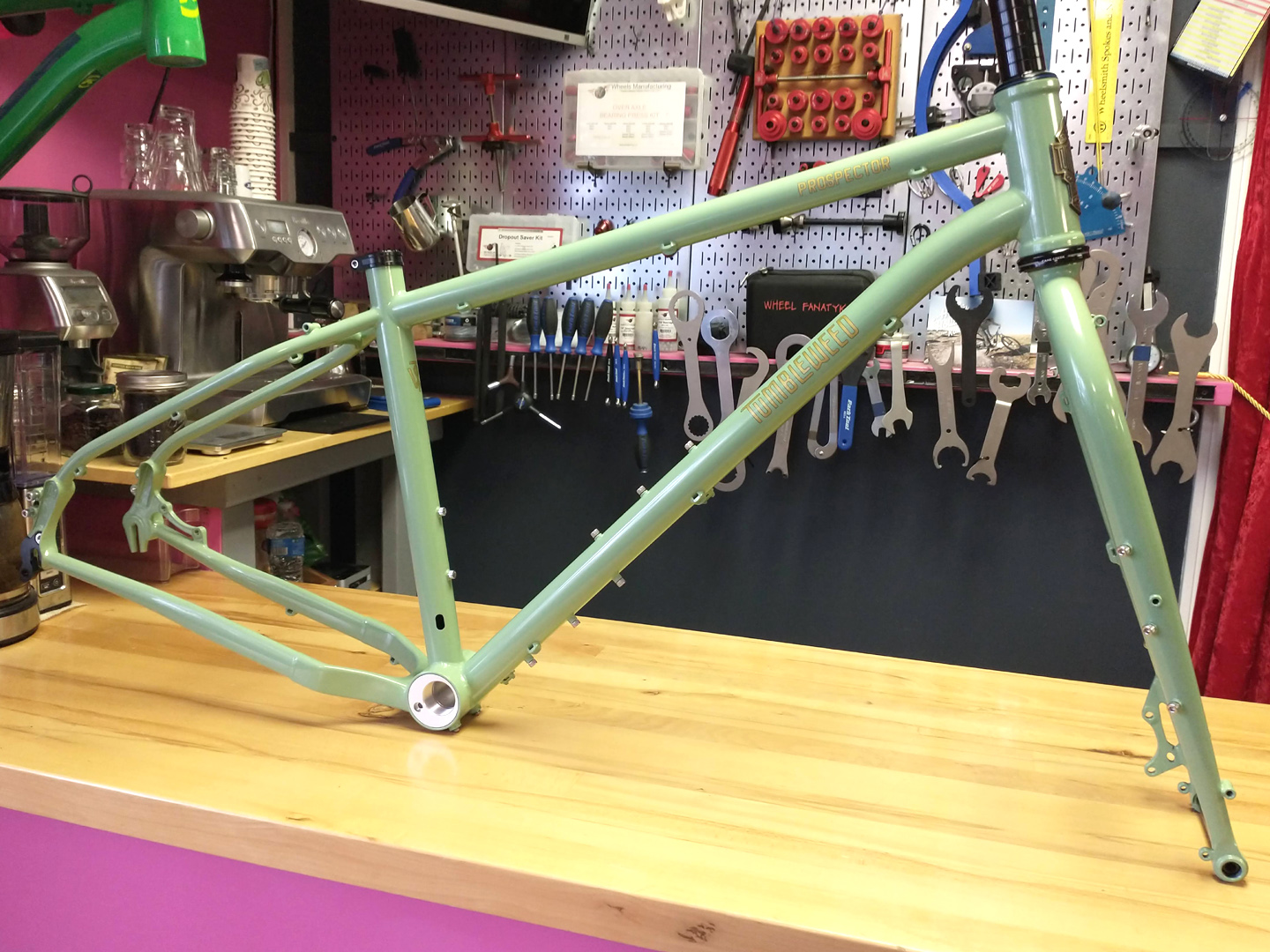 the bikepacker cum grocery getter: full pics and description of this swiss army knife of a Prospector will be posted in the new year.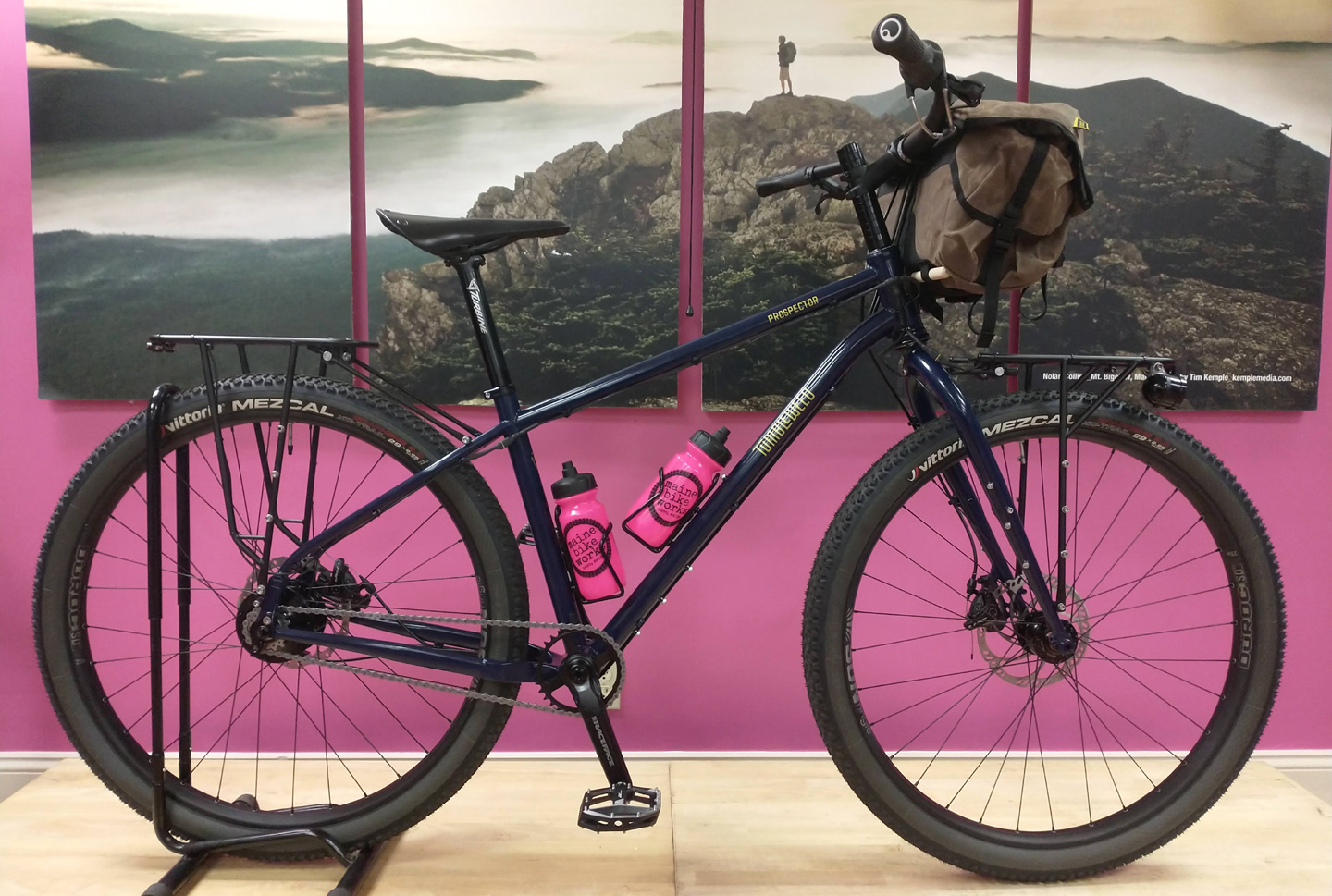 the rail trail and canal path cruiser: outfitted with front and rear Tumbleweed T-Racks and a full dynamo power plant currently running front and rear lighting, but with a custom mbw-made wiring harness which will allow the rider to easily move the system around depending on what racks config he's running for that particular adventure. add a cool Bags-By-Bird handlebar pack and a Tumbleweed Persuader bar and you have one of the most versatile Prospectors we've ever built.

the Tumbleweed rabbit hole
the next time you're sitting at a desk and pretending to work, get up-to-date with all things Tumbleweed Bicycle Company with the following resources: