MBW is proud to sell bikes from

Co-Motion Cycles
handmade bikes for your handmade adventures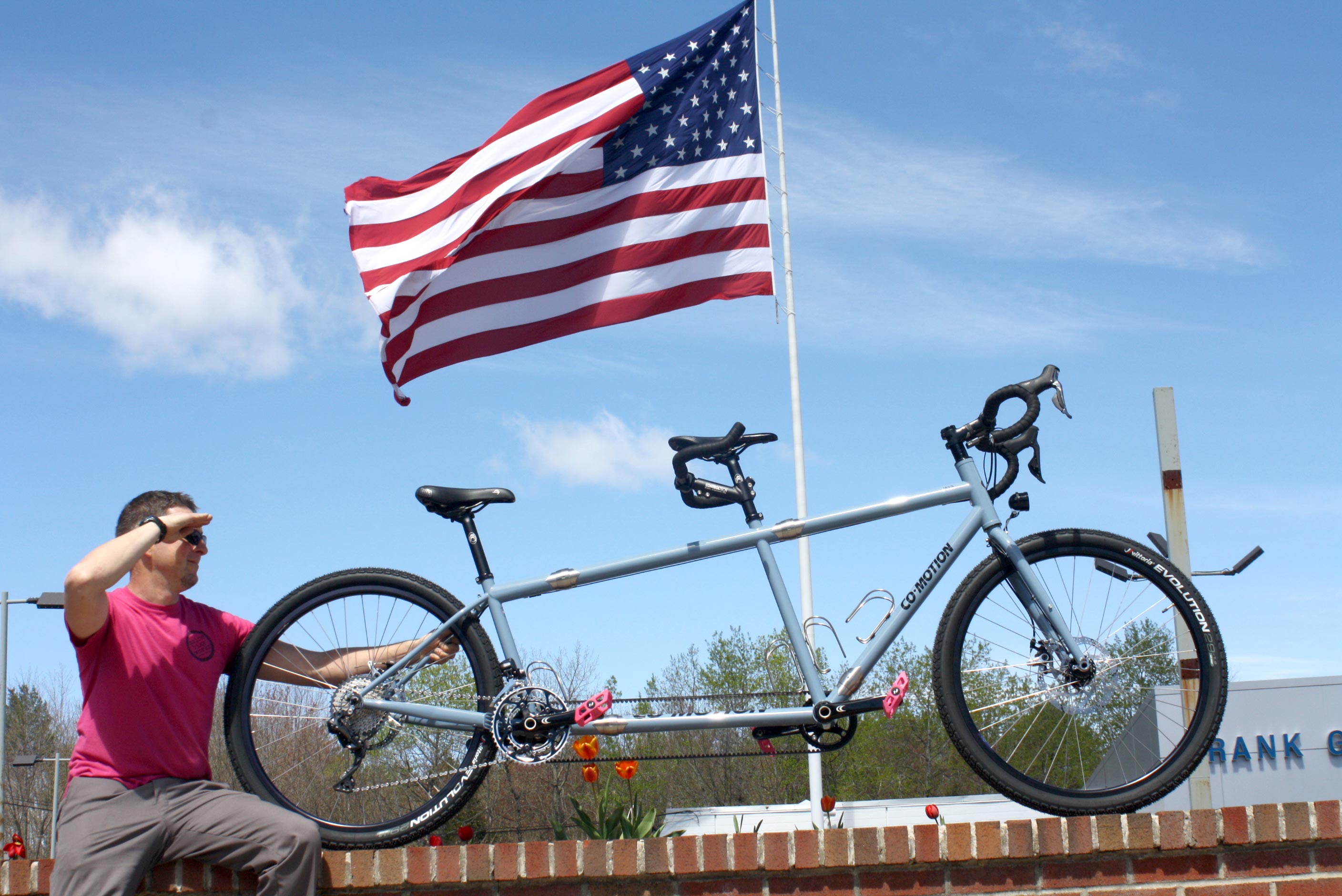 you love to tour and tandem, why not love your bike too?
as a bicycle touring and tandem focused shop, we aim to offer cyclists of all experience levels a fun place to visit and a place to indugle their inner bike adventurers and with our partnership with Co-Motion Cycles we are able to offer our customers what in our opinion are the finest handmade-in-the-USA tandem and single touring bikes.

in case you aren't already in the know, Co-Motion is a storied bike maker out of Eugene, Oregon filled with friendly folks who have been producing dream machines at the absolute pinnacle of touring and tandem design for over 30 years.

if you've ever been drivetrain curious, you'll love Co-Motion and because MBW is all about tandems and touring, we think it is important to keep in stock demostration bikes which have all three styles of drivetrains our buddies in Eugene, Oregon offer. come on in and sit astride a Rohloff Speedhub equipped bike, a Pinion 18 Speed Gearbox equipped bike or a traditional derailleured equipped bike and compare and contast the benefits of each - just don't let us start rambling on about the Gates Carbon Belt Drive options for their bikes as we'll go on forever.

for just a little more than the cost of a production bike made by thousands on an assembly line, you can ride a truly handmade American bike brought to life with heart and craft. their ready to ride, single bikes start at $2,500 and their tandems start at $3,000. while the initial cost of riding a Co-Motion may be slightly more aspirational than some of the other more production oriented touring lines we carry, you won't find another maker anywhere who can deliver completely such customizable tandems and singles at more reasonable prices.

for all a list of all their models, customization options and prices, visit Co-Motion's website or reach out to us and we'll be happy to start guiding you down the path to cycling nirvana.
Co-Motions we keep on hand
we always aim to keep the following single rider touring models in stock so you can throw a leg over and test ride Co-Motion's three different drivetrain options. top top: even if you're soley interested in a tandem, pedaling these single bikes will give you a better idea of which style of drivetrain you want for your next two seater so come check them out. for the nitty gritty on all the awesome drivetrain options and why you may want to consider something other than a traditional chain and derailleur, see the section below titled: what can I customize on my dream Co-Motion?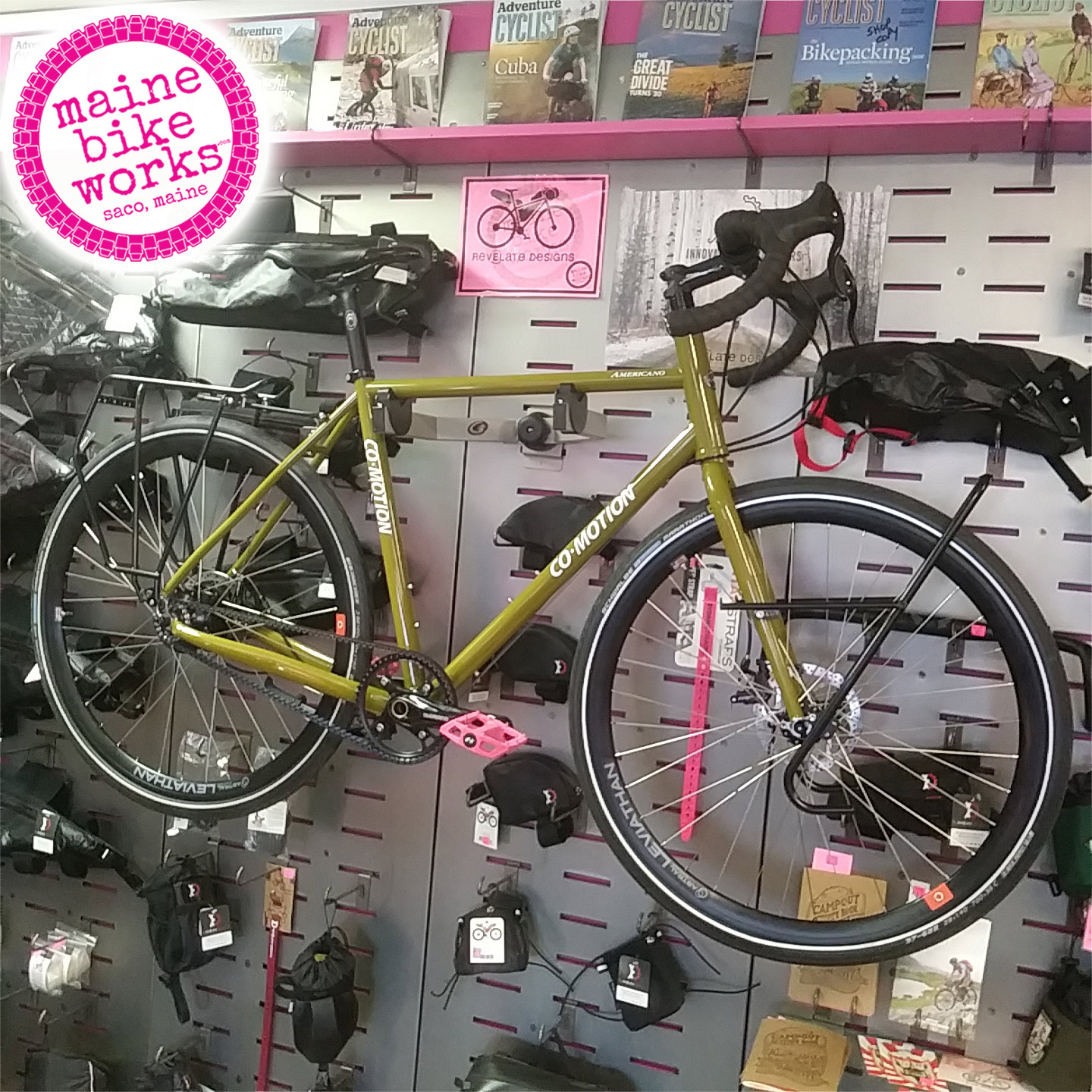 Americano: no matter if you have us build it with a Rohloff Speedhub, Pinion Gearbox or a traditional drivetrain, the Americano is the touring bike for those who are called to quit their job and ride across country. purpose built as the ultimate road tourer no matter the crosswind you have to endure or the load you hang on it. we aim to keep one equipped with a Rohloff Speedhub and Gates Carbon Belt drive for you to try out.
click for Americano pricing and build options.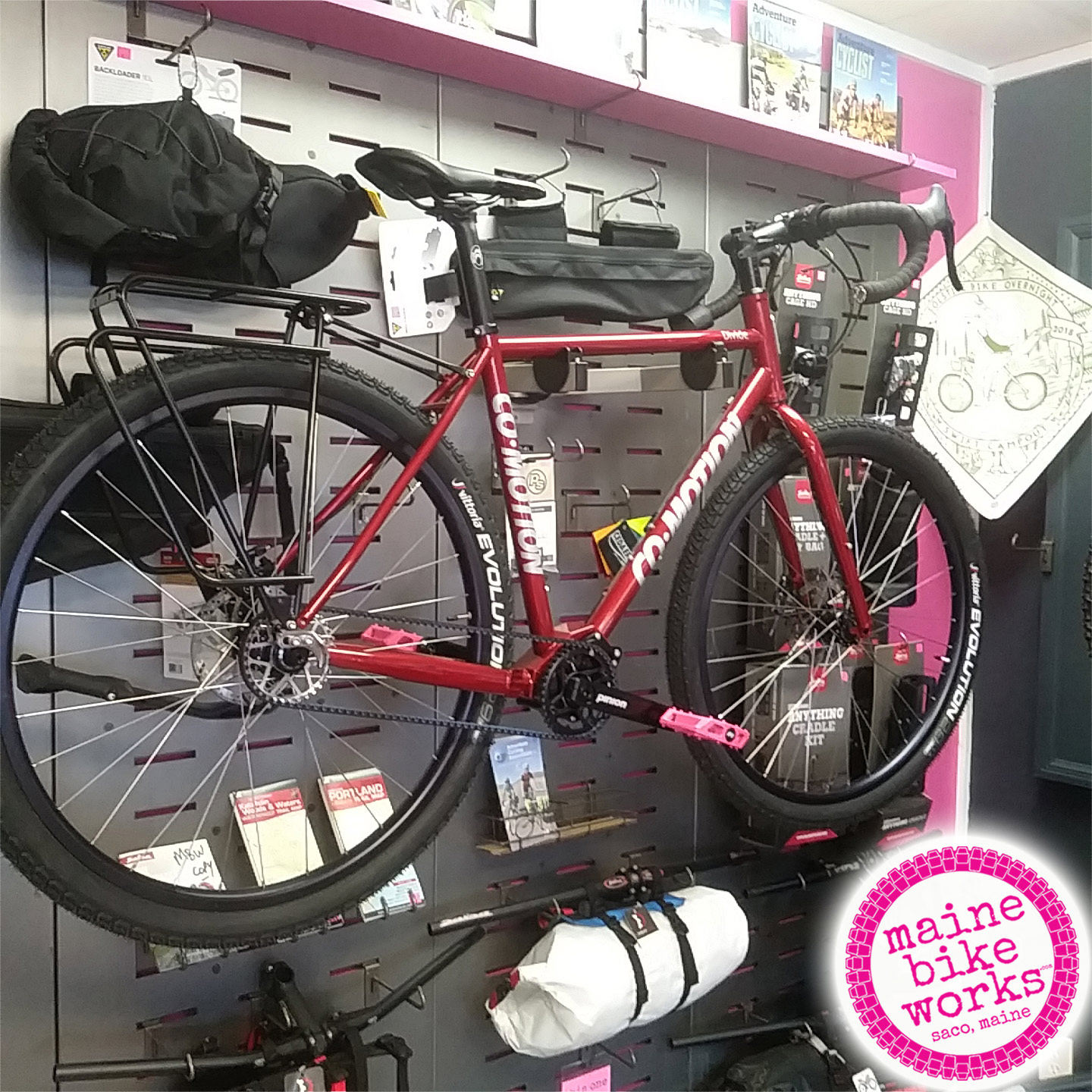 Divide: though it also makes a wonderful road touring bike, the Divide was designed to gobble up mixed-surface, gravel and looser conditions with ease. it fits fatter tires than the Americano (up to 2") and can roll over terrain that would bog down more traditional touring bikes. we aim to keep one equipped with the ultra-wide geared (read: the easiest gearing of any style drivetrain) Pinion P1.18 Gearbox and Gates Carbon Belt drive for you to try out.
click for Divide pricing and build options.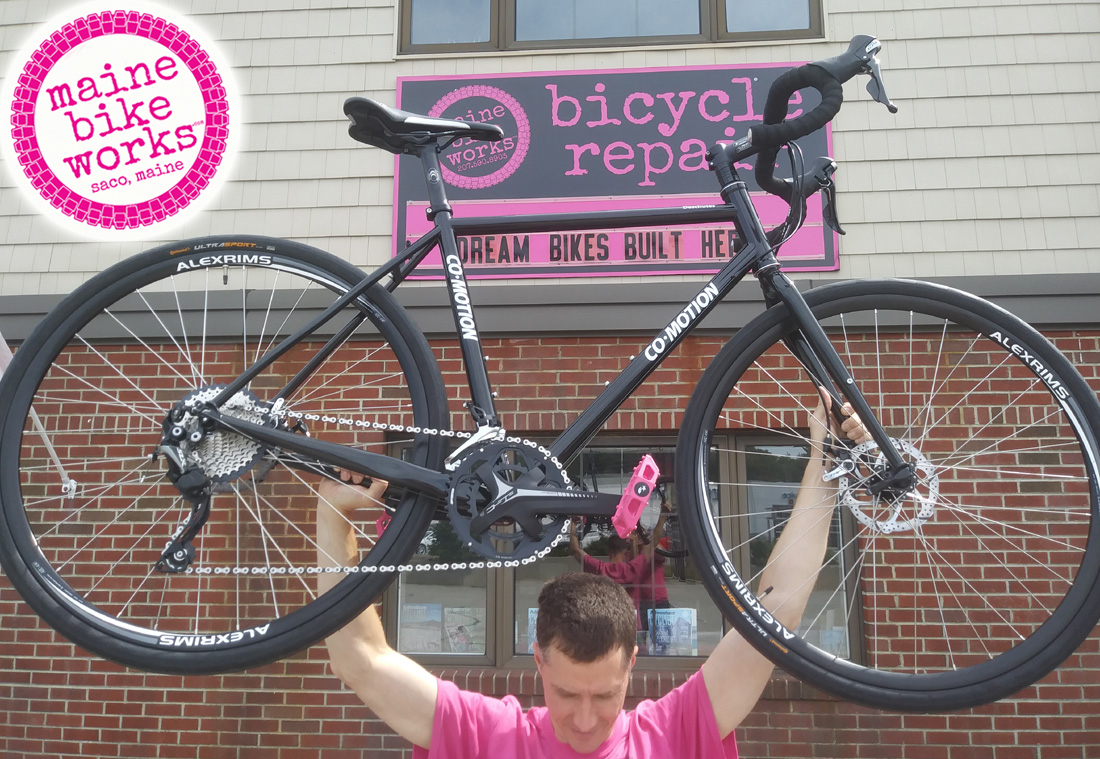 Deschutes: if anyone else makes a handmade in the USA touring bike for less than $2,500 complete like CM does we'd like to hear about it! we aim to keep one equipped with STI shifters and a traditional chain and derailleur'd drivetrain for you to try out. click for more info about the Deschutes.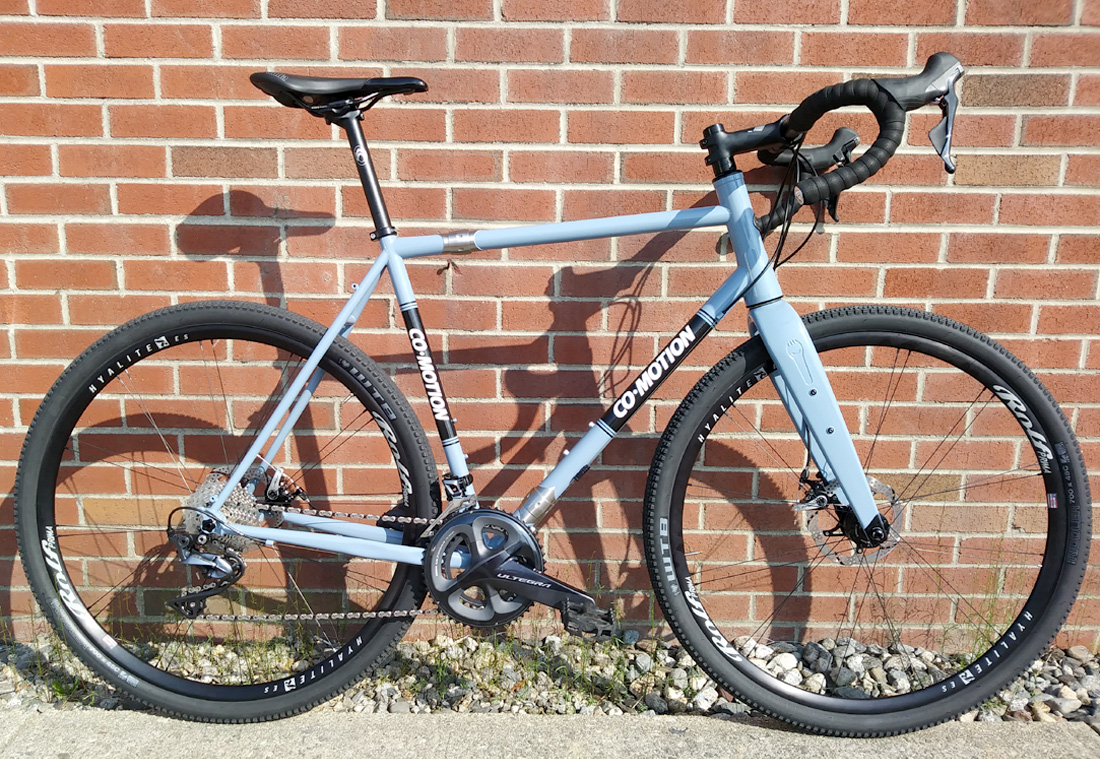 Klatch: want a sporty gravel bike that can also be racked and bagged out for fast road and hard packed dirt rides? if so, check out Co-Motion's new Klatch which accepts full racks for lighter touring jaunts, modern wider / supple tires and racy gravel grinding geometry. available with a Whiskey carbon fork from stock or upgrade to a Rodeo Adventure Labs Spork or even a Lauf suspension fork. heck, there are precious few gravel bikes which can also be spec'd out to run a Pinion Gearbox with a Gates Carbon Belt drivetrain, but the Klatch can. the build we did in the photo above is with a traditional derailleur'd drivetrain, a Spork painted to match the frame, S&S couplers and a suitcase to pack the bike into to make it easy to carry a full-size bike with you on your round-the-world jaunts. a lovely, supple, gravel bike. [note: we don't keep one of these in stock, but we'd be happy to order you one.]
click for Klatch pricing and build options.
why we love Co-Motion Cycles...
at MBW, we dig bike makers that think the same way we do.

in fact, we go out of our way to find makers who like to swim against the ever encroaching tide of bike commoditization. when we pick up the phone and order a Co-Motion tandem or single for a customer, our friends in Eugene, Oregon don't just walk in the back of some cavernous warehouse stuffed with bike boxes stacked floor to ceiling* from the far flung reaches of the globe which have been gathering dust until someone randomly clicks submit in a virtual shopping cart. instead, that same call starts a conversation between our counterparts at Co-Motion and ourselves where we discuss what our customer is looking to get out of their next n+1 and ends a few months later when real American craftswomen and men turn raw steel tubes into riding works of art for that one specific customer.

with the exception of one or two of their most popular entry level rides which are built in batches of 3's and 5's, Co-Motion cycles specs out, brazes, paints and accessories each and every bike wih a particular person (or peoples in the case of their tandems) in mind. over the last thirty years, they have perfected the process of creating steel bikes which really have no peer in the small space in which their operate.

because they have three decades worth of putting people on their bikes, we will consult with them frequently on the best way to outfit your new ride. when we have a question about which will be the perfect size or model or build package for you, we simply pick up the phone and speak to an Oregonian to figure out the best way forward.

likewise, they are often the first point of contact for someone looking for one of their tandem or single bikes and they will reach out to us to act as a showroom where their customers can touch, feel, ride, and chat up all things Co-Motion Cycles.

no matter whom you speak to first, MBW is the place where your frame will be built up with the same care and attention into a functional bicycle shaped object as the folks weilding the welding torches and paint spray guns gave it when it was in their hands.

we'd love to be the shop you decide to trust to build-up your next Co-Motion and we're only a click away from answering any initial questions you may have.
* à la Raiders of the Lost Ark
bluesy tandem inspiration anyone?
here's the last three Co-Motion tandems we've built - coincidentally, all shades of blue :)
Java: ridden to a win in the tandem class of the 2019 Dirty Kanza 100 mile gravel race, the Java gobbles up gravel and dirt yet stays highly efficient for long days on the pavement. the ability to run both skinny road racey tires or larger knobbies up to 2" makes the Java perfect tandem for touring New England and racing on our, how should I put this? - less than perfect sufaces. let MBW build yours with drop bars and electronic shifting like the one we did above or go full adventure mode and have us flesh one out with upright Jones Bars for the ultimate in mixed-terrain control.
click for Java pricing and build options.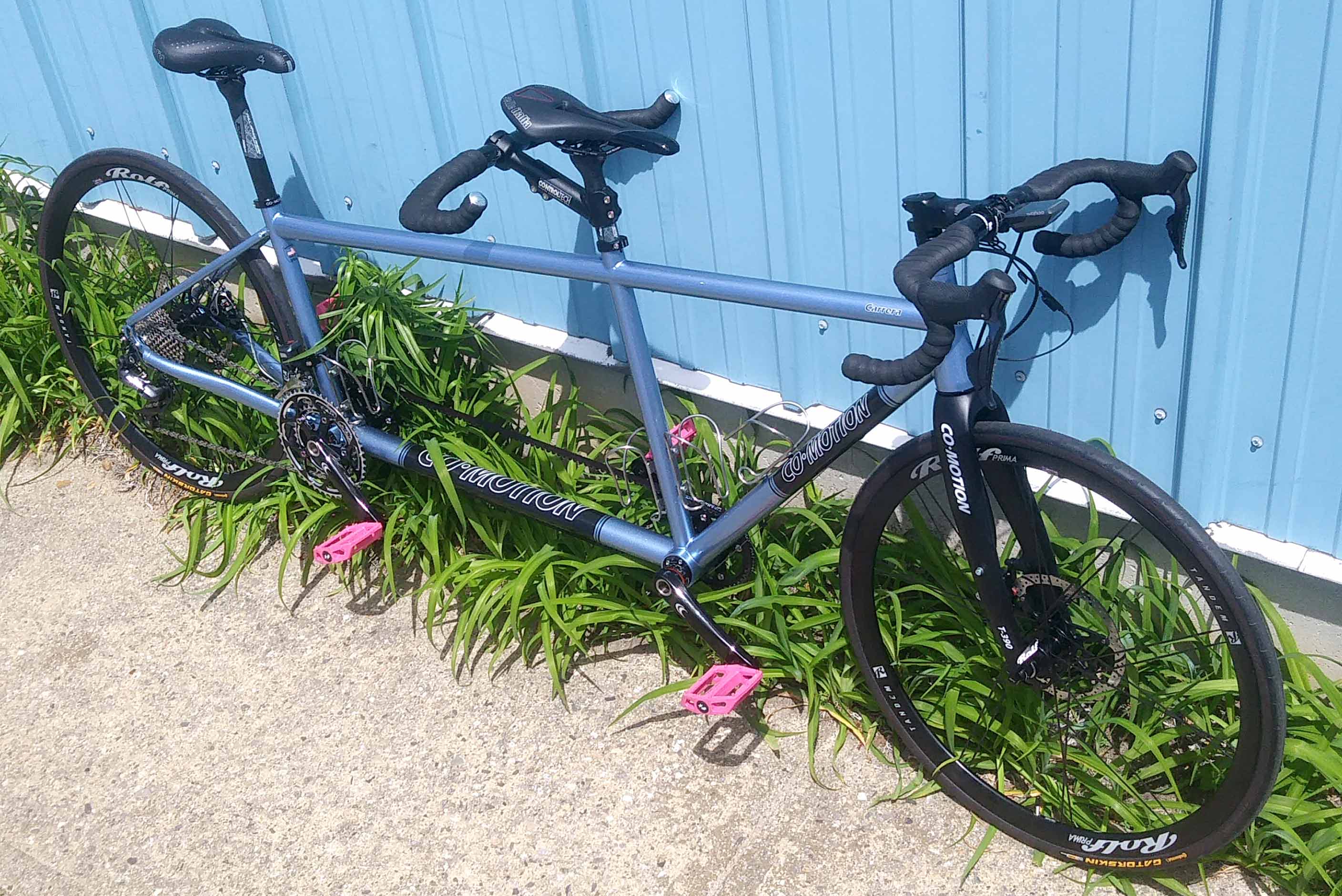 Carrera: a go-fast road tandem that will enable you to go farther and more efficiently then ever before. a tapered headtube and Co-Motion carbon disc fork will ease the bumps for the captain and custom Reynolds air-hardend 631 steel will take care of the stoker. even though Carreras are designed to be lightweight, speedy bikes, they smartly come with rack braze-ons and fender mounts for rides where you want to stop and smell the roses opposed being first to arrive at the brewery lunch stop. .
click for Carrera pricing and build options.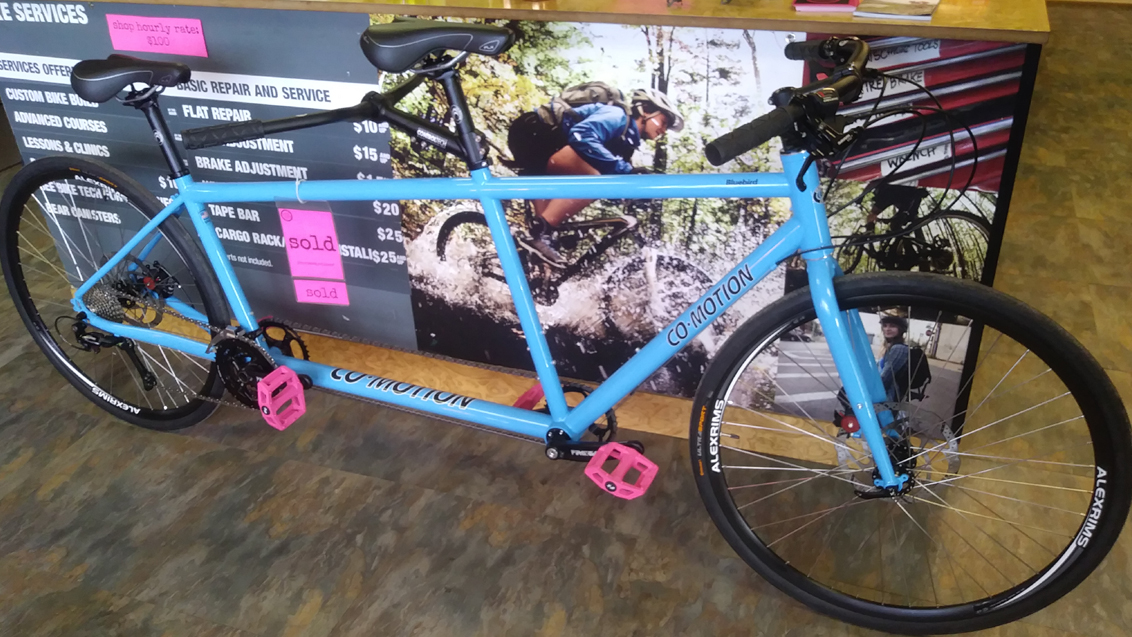 Bluebird: a handmade in the USA tandem for $3k? sure - if you choose a Co-Motion Bluebird. a lovely riding road tandem that accepts up to 32mm tires, you'll be hard pressed to find a friendlier introduction to the world of tandeming than this. click for more info about the Bluebird.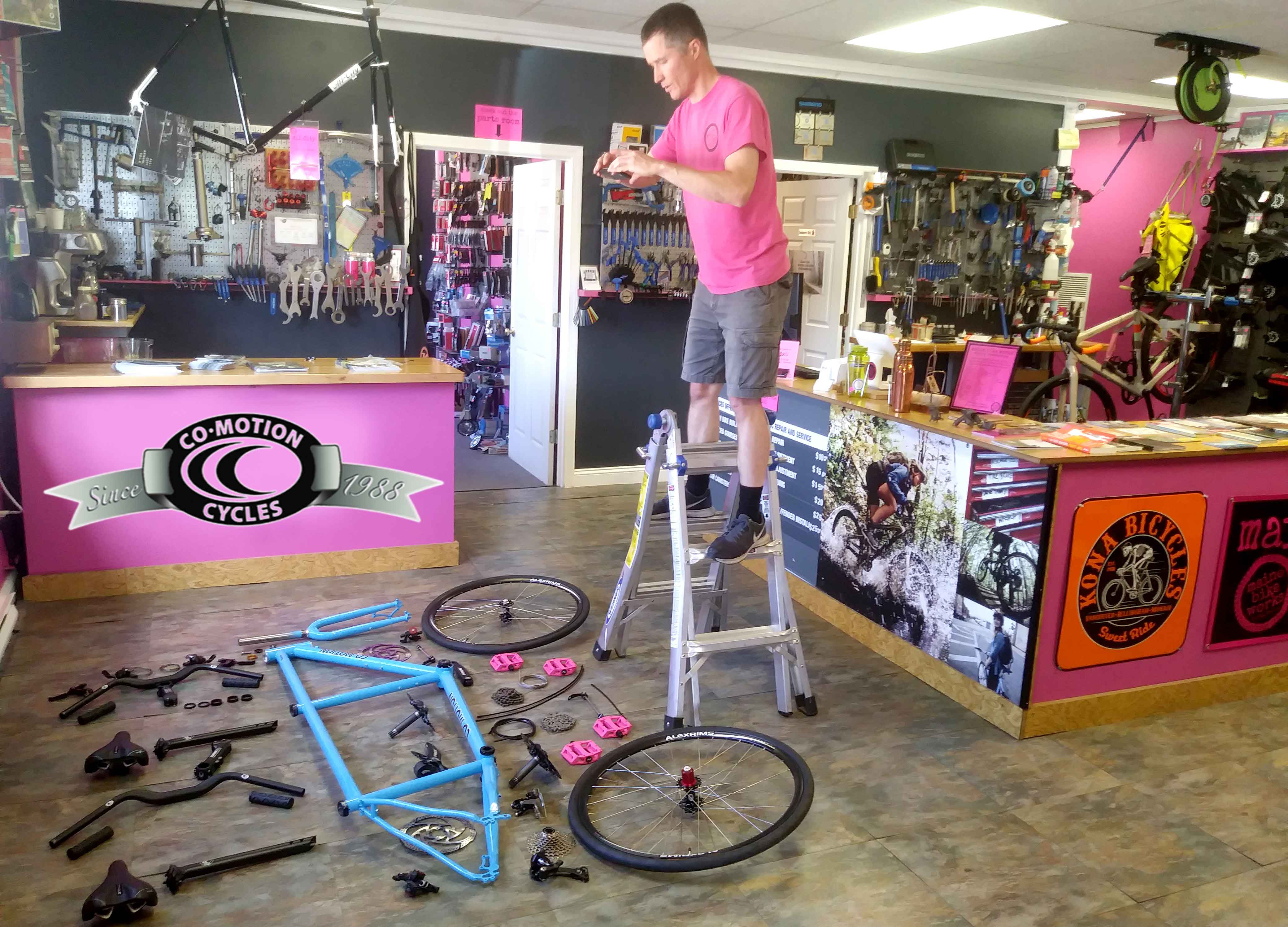 what can I customize on my dream Co-Motion?
the short answer is: pretty much everything. between Co-Motion who will weild the torches and braze your frame and ourselves as the bikeshop who will bring the build to life, we can customize sizing, paint design, touch points, components - you name it. unlike more traditional brands, choosing which particular Co-Motion model you want is just the first of many choices you get to make in order to truly customize your dream bike. we'll help you with the sizing, so don't fret about that, but you also get to choose the color / style of paint, the color / style of decals and whether or not you want any of the extra accessories the wizards in Eugene have dreamed up.
like what accessories? lots of options here, but some of the more popular ones include generator front hubs so you can light up your path as well as charge a phone while riding, front and rear racks, extra fittings on the frames like kickstand plates or even the installation of S&S Couplings which allow you to reduce the size of your touring bike or tandem to fit within a small suitcase for easy travelling.
the biggest choice most people will need to make however pertains to the style of drivetrain they want to hang on the bike. 'what's a drivetrain?' I hear you ask? well, drivetrains refer to the gears, cogs, chains and other things on your bike which propel you forward when you start to pedal. because 99% of the bike you see on the road or trail these days use traditional chain and derailleur set ups, you may not even be aware of the alternatives out there. we've outlined the three types below and you can click on each for some additional information including pro's and con's of each straight from the horse's mouth by our buddies at Co-Motion. we keep demonstration bikes of all three in the shop, so don't worry about trying to absorbe everything below, just come in and touch and feel them in person. we love walking people through the benefits of each style - plus they're just damn cool to ride and play with!
what's possible in 25 seconds?
check out Surly Mike building a Co-Motion Cycles Bluebird tandem from scratch.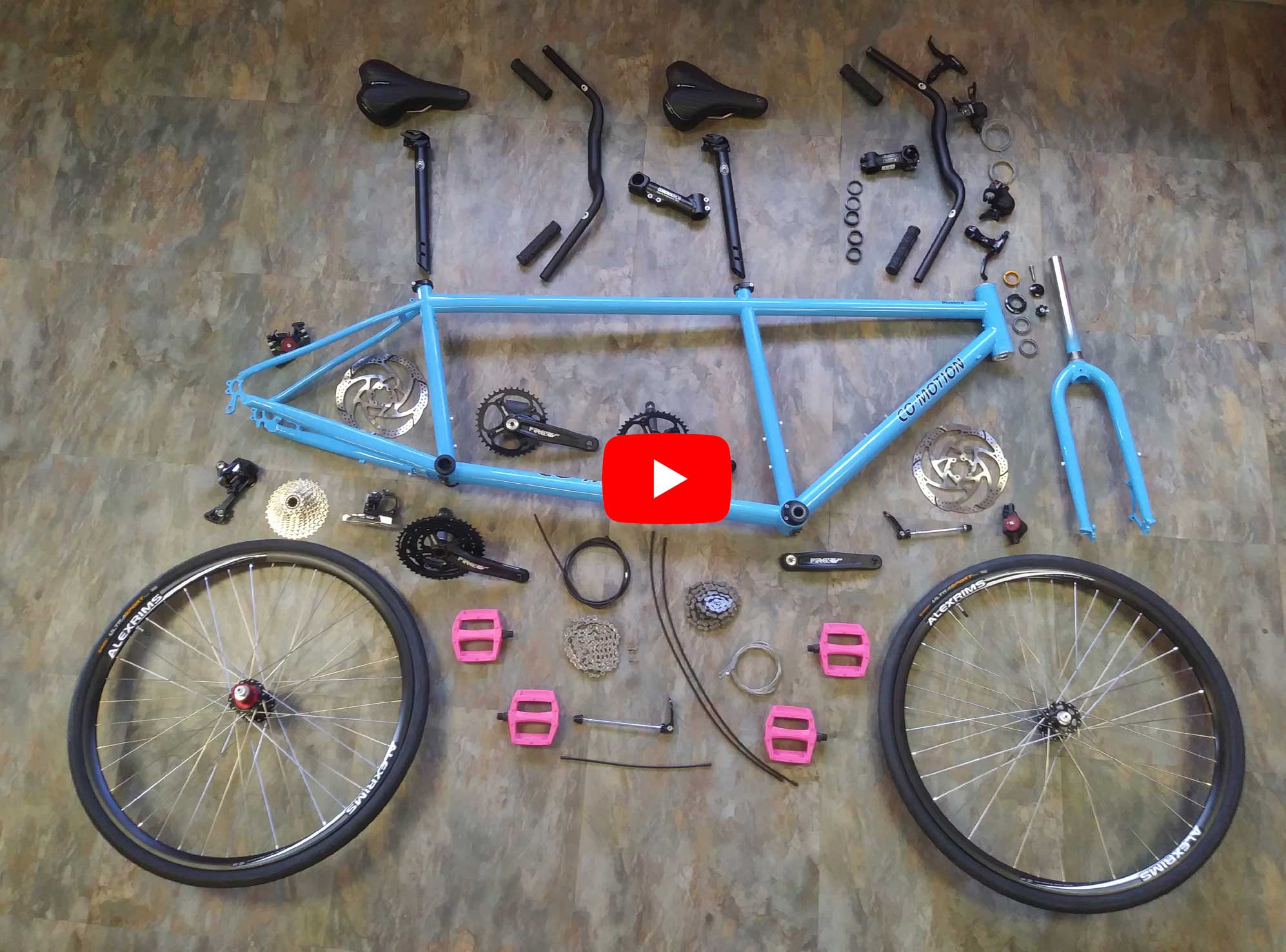 (btw, Bluebirds are handmade in Oregon and go for around $3k which is pretty unbelievable considering the time and artisanship that goes into each one. click here to see what Co-Motion has to say about this sexy bike.)
the rabbit hole
the next time you're sitting at a desk and pretending to work, get up-to-date with all things Co-Motion with the following resources: