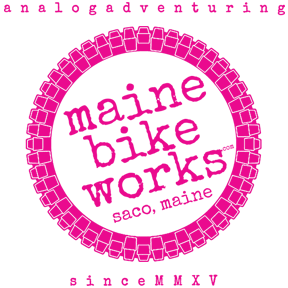 come work with us
because life's too short to not enjoy what you do for a living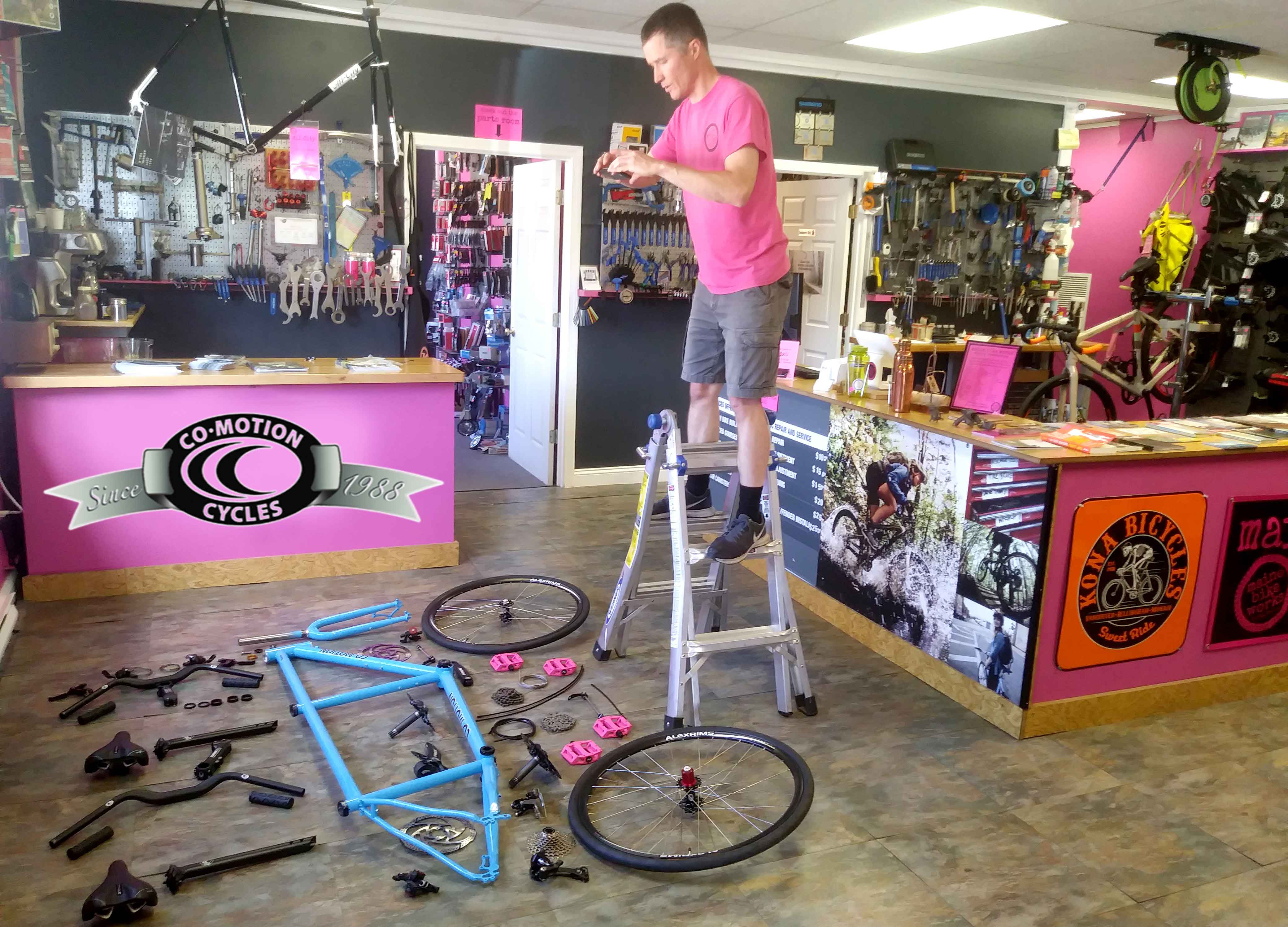 we're going places - join us.
while we don't pretend to fully understand why people keep coming to us from all over New England asking us to build them custom touring, bikepacking, gravel, mountain, fatbikes and tandems, we truly love being known as the go-to shop for those looking for something other than the stack-em high, sell-em low experience to be found at more traditional bike shops.

with that in mind, we have big plans and we're on the lookout for a friendly, positive-down-to-their-DNA, people people who wants to join us on the wild ride that comes with wearing one of MBW's pink staff shirts.
read through the open position(s) below and if you have any questions, send me (Jason) an email at - be sure to outline your previous experiences getting paid to talk or work on bikes to help me better understand the talents and abilities you can bring to our company.
what position(s) are we hiring for?
Combined Mechanic, Custom Bike Builder and Sales Position
We're looking for another very experienced colleague to work alongside us. Must excel at all facets of retail with a demonstrated ability to talk about and sell all types / styles of bikes with confidence and demonstrated knowledge. [UPDATE: As we've had to significantly adapt our business practices during the COVID-19 outbreak, we're especially interested in hearing from candidates who we feel will be comfortable with and can be successful at selling, sizing and talking about our core styles of bikes over the phone and Internet from day one.] (Year-Round, Full-Time)
what's the closing date?
Whenever we find the perfect match for our customers and shop. We'd can start the right applicant as soon as tomorrow, historically however, we've been very picky about who we'll ask to represent Maine Bike Works so we are willing to wait. If this rambling job posting is still up, get applying as we'd love to hear from you.]
a little about us and what it's like working here:
We've worked hard over the past 5 years to establish a non-snobby, no-attitude-allowed culture with both our customers and between us colleagues, so whomever joins us will have to understand that we are aiming to be a different type of shop than pretty much anywhere else on the planet.

All of us love building, selling and working on bikes, but we love helping people more. From day one, we've aimed to be a very low volume shop that doesn't over extend itself and try to be all things to all people. There are 18 traditional shops with 25 miles of MBW who are better able to cater to the general cycling enthusiast - but don't go thinking that gives us any reason to be snobby or elitist in how we help folks. We're lower volume by design, NOT less inclusive by design. So if you're the type of person who enjoys showing a neighbor how to put training wheels on their kid's bike just as much as building up someone's dream $10k adventure bike, then you'll probably dig working here.



Work / Life Balance is EXTREMELY important to us and we've built the business around trying to find that sweet spot where we're busy enough to have enjoyable and interesting work coming through our doors daily, but not so big and in debt to a bank or our vendors that we're pressured to take on projects that aren't in the best interests of our customers or pressured to sell and build bikes we ourselves wouldn't be excited to ride.
You also won't find the typical stack-em-high, sell-em-low, sales-focused atmosphere so pervasive in the regional chains either. If you're a positive, friendly, people-focused person down to your DNA, you may just find starting work at MBW to be as comfortable as putting on your favorite pair of shearling lined slippers.
Pay will reflect how much work you can take of my (Jason's) plate as the owner of the shop. Unlike most shops, we operate with a fairly equitable pay structure so a highly talented mechanic / sales person will probably be making similar to someone who is overseeing the general admin of the shop and doesn't get quite as greasy.
If you really enjoy the cycling industry and you prioritize the amount of enjoyment your job gives you then you will be hard pressed to find a place with more long term potential than the little retail store we've built down here in Saco. As lifelong bike shop nerds ourselves, we've consciously sought to maximizes all the fun aspects about working in a bike shop and have sought to minimize all the unnecessary things which can make working in a traditional retail shop a grind.
We've set this shop up to be centered around making MBW an enjoyable place to spin wrenches / talk bikes and as a lifelong bike mechanic and retail worker myself, it's always on my mind to find ways to better compensate our employees for the business's continued success. The showroom is open Wed to Sat 10 to 5, so plan on circa 30 hours a week to start, though at some point we may end up adding a few extra days to the showroom opening times which will mean circa 40ish hours a week. The successful candidate will need to work at least one day on the weekends as this is retail after all, but for the past 6 years, I've done everything I could to keep from needing to open on Sundays to give us time with our families.
Unlike most shops, we spend 80% of our day chatting with folks by e-mail and phone about their bike projects so, not only will you need to have kick-butt bike mechanic skills, the ideal candidate will need to either have a deep knowledge of all things bikey or a real fire within to learn about the various brands we represent and all the fun custom types of bikes we build for folks. An interest in touring, bikepacking and adventure biking is a real plus. The ability for communicate this knowledge in writing and in a timely manner using email is also super important so windows computer and typing skills are at the top of our priority lists alongside the ability to navigate the various supplier b2b's we work with daily.
MBW is a very casual / laid back place by design, but here are some MUSTs that the successful candidate will possess without exception:


MUST BE SUPER FRIENDLY AND THE TYPE OF PERSON PEOPLE LOOK FORWARD TO BEING AROUND.
MUST ENJOY SMILING AND RECEIVING WELL DESERVED HI-FIVES.
MUST HAVE DEEP & VARIED EXPERIENCE IN A RETAIL SETTING GETTING PAID TO WORK ON AND TALK ABOUT ALL THINGS BIKES.
MUST HAVE AN EASY TO MANAGE, POSITIVE ATTITUDE AS MODERN RETAIL IS CHALLENGING ENOUGH WITHOUT ADDING IN ADDITIONAL DRAMA FROM ONE OF OUR COLLEAGUES.
MUST ENJOY SOCIALIZING WITH OTHERS & BE THE TYPE OF PERSON WHO IS MORE INTERESTED IN LEARNING ABOUT OTHER'S BIKING INTERESTS THAN TALKING ABOUT THEIR OWN.
MUST HAVE A MASTERY OF ADVANCED RETAIL SKILLS AND THE ABILITY TO APPLY BASIC COMMON SENSE WHEN APPLYING THEM.
MUST BE COMFORTABLE WORKING IN A FAST PACED SHOP WHOSE NEEDS AND JOB DESCRIPTIONS ARE EVOLVING DAILY.
MUST ENJOY THE IDEA OF WORKING FOR A SMALL, YET FAST GROWING COMPANY AND ALL THE QUIRKS THAT ACCOMPANY IT.
MUST BE ABLE TO BE PROACTIVE, ENGAGED AND LOOKING FOR THE NEXT TASK EVEN WHEN IT IS SLOW.
MUST BE ABLE TO HIT THE GROUND RUNNING AND CAN WORK WITH LITTLE TO NO SUPERVISION FROM DAY ONE.
MUST BE ABLE TO TAKE INSTRUCTION AND BE AND COMFORTABLE WORKING IN A FAST PACED SHOP WHOSE NEEDS AND JOB DESCRIPTIONS ARE EVOLVING DAILY.
MUST BE ULTRA RELIABLE AND AND A EASY PERSON TO SUPERVISE AND WORK ALONGSIDE.
MUST BRING THEIR APPEARANCE 'A GAME' EVERYDAY AS NO ONE WANTS TO WORK WITH SOMEONE WHO LOOKS LIKE THEY JUST ROLLED OUT OF BED.
FOR MECHANICAL FOCUSED POSITIONS, CANDIDATES MUST BE ABLE TO FIX AND BUILD ALL STYLES OF BIKES ON THE SPOT WHILE BEING WATCHED BY AND WHILE INTERACTING AND EDUCATING OUR CUSTOMERS.
MUST BE ABLE TO ENDURE JASON'S CHOICES OF MUSIC - ESPECIALLY PRINCE FRIDAY'S.
MUST BE ABLE TO ABSORB THERON'S VAST KNOWLEDGE OF ALL THINGS METALLURGY & METAL FINISHING.
MUST BE ABLE TO READ LONG LISTS OF MUSTS.
New hires will be subject to a multi-month trial period to ensure that there is a good fit between the candidate and the quirky (yet successful) way our shop operates compared to a traditional bike shop.
How to apply:
If you think you'd fit the bill, applying is as easy as reaching out right now.
TO APPLY
. Send me (Jason) an email at
- be sure to outline your previous experiences getting paid to work on bikes, your strengths and weaknesses as a mechanic, the types of riding you really get excited about etc.
TOP TIP #1
: This is your opportunity to sell yourself and it's the only resource we'll have to judge your communication skills as the role will have a lot of interaction with remote customers over the phone and by email, so it's worth putting a little effort in it.
TOP TIP #2
: As this role requires someone who can hit the ground running, you'll definitely need to have have recent experience getting paid to work on bikes in a bike shop for us to consider your application and as much as people would like to think that their time spent working on cars / motorcycles / trains (real story) are equivalent substitutes, they are not. Same goes for advanced degrees in electrical and / or mechanical engineering and those summers you spent working on bikes as a kid. So please keep this half-tongue-in-cheek in advice in mind before applying as this is an advanced position and not a first-time-working-in-a-bike-shop position.
If you want to chat more about the job before you apply, just reach out by email. Just make sure you tell me a little about yourself in your introduction, so I know you have the minimum experience listed above.
Cheers!
Jason