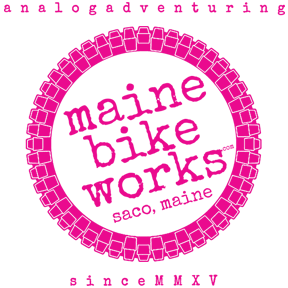 come work with us
because life's too short to not enjoy what you do for a living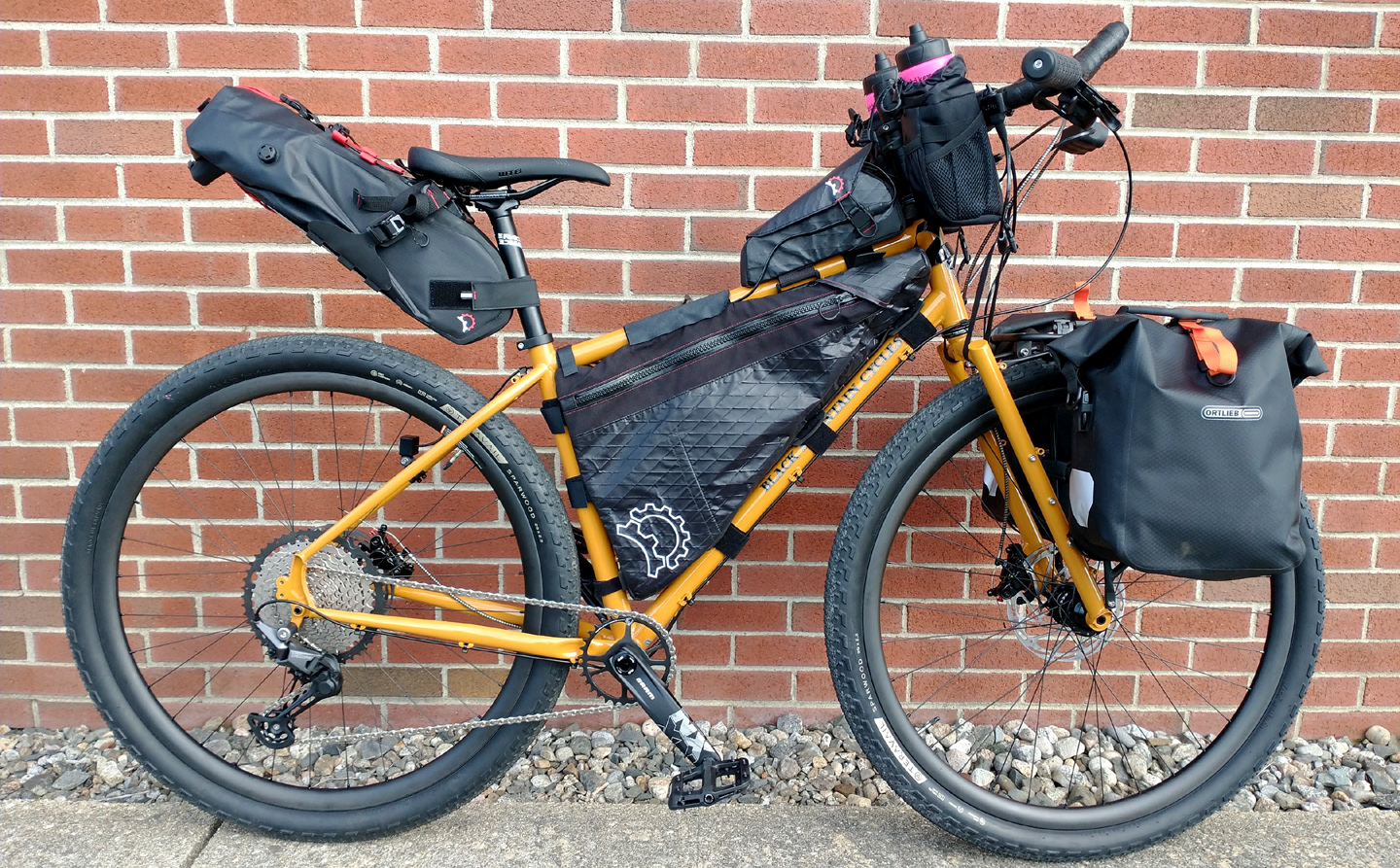 we're going places - join us.
while we don't pretend to fully understand why people keep coming to us from all over New England asking us to build them custom touring, bikepacking, gravel, mountain, fatbikes and tandems, we truly love being known as the go-to shop for those looking for something other than the stack-em high, sell-em low experience to be found at more traditional bike shops.

with that in mind, we have big plans and we're on the lookout for a friendly, positive-down-to-their-DNA, people people who wants to join us on the ride that comes with wearing one of MBW's pink staff shirts and getting to post pics to #MaineBikeWoksHasTheBestCustomers.

read through the open position(s) below and if you have any questions, send me (Jason) an email at - be sure to outline your previous experiences getting paid to talk or work on bikes to help me better understand the talents and abilities you can bring to our company.



WHAT POSTION(S) ARE WE HIRING FOR?



Experienced Bike Mechanic / Sales Person (combined role) who loves the style of nerdy bikes we build

Think you'd dig talking about, building and servicing the nerdy touring, bikepacking and gravel bikes we show off on our social media feeds? If so, get in touch as we're looking for someone who has previous experience getting greasy in bikeshops and is looking to take their creative skills to the next level. Some brass-tacks benefits you'll get in exchange for talents, experience and life energies:



Estimated $24 per hour for well qualified candidates
- calculated on initial $15 base rate + 100% of the average of 2022's quarterly Profit Sharing payouts for current employees. Less experienced / qualified candidates will receive smaller %. Eligible for Profit Sharing after 30 days. Pay reviewed periodically to ensure efforts reflect compensation. No upper limit to each quarterly payout. TL;DR The better the shop does, the better everyone's pay.

$1,000 signing bonus
- paid after 3 months employment.

4 Day Work Week
- we've done Wed to Sat 10 to 5 for past 8 years (3 day weekends!), but more hours can be found outside of our normal showroom times if you have a burning desire for them.

Health and Dental Insurance
- available to new hires after 1 year's employment for those who prefer the addition of these benefits in exchange for a modified pay rate.

Year-Round Consistent Employment
- with our specialist emphasis we tend to stay consistently steady businesswise during the year.

Free Company Vehicle
- choose a new bike to ride every annual anniversary of your hire.

Paid-Time-Off
- 1 week annually starting each Jan 1st. Additional Unpaid-Time-Off readily available on day 1.

Predictable schedule
- We aim to give everyone the same schedule week after week, after week to allow employees to plan their days off as far in advance as possible.

Snowdays
- we often like taking these random events off time off when other retail shops don't.

Specialist products
- We advertise we only sell bikes which cost $2k and up. We don't say that to be snobby, but because our low-volume, high-attention, customer-focused model wouldn't work otherwise.

All bikes, all the time
- We keep busy enough talking about building adventure bicycles that we are able to leave leave clothing, footwear, rentals, skis, snowboards and kids bikes to the regional chains and other more traditional shops.

No obligation
- if we offer you a position you can test it out if you'll enjoy working here long term. Don't dig it? Not a good fit? Decide you'd rather ride across the country on your bike instead? No hard feelings. We get it - while it's a kick for me, Prince Music Fridays aren't for everyone :)

PAID 2 WEEK MBW-RADICAL-SABBATICAL:
- After 3 years employment, go on an awesome bicycle adventure or do something else our customers would find interesting to see you give a presentation about here at the shop and and get paid for the time you were away.

$5k MBW-DREAM BIG SCHOLARSHIP:
- After 5 years of employment, have some $ to push the boat out a little as a thank you for all your efforts.

a little about us and what it's like working here:
We've worked hard over the past 8 years to establish a non-snobby, no-attitude-allowed culture with both our customers and between us colleagues, so whomever joins us will have to understand that we are aiming to be a different type of shop than pretty much anywhere else on the planet.

All of us love building, selling and working on bikes, but we love helping people more. From day one, we've aimed to be a very low volume shop that doesn't over extend itself and try to be all things to all people. There are 20+ traditional shops with 25 miles of MBW who are better able to cater to the general cycling enthusiast - but don't go thinking that gives us any reason to be snobby or elitist in how we help folks. We're lower volume by design, NOT less inclusive by design. So if you're the type of person who enjoys showing beginning tourist how to change a flat just as much as building up an experienced cyclists dream $10k bikepacking bike, then you'll probably dig working here.



Work / Life Balance is EXTREMELY important to us and we've built the business around trying to find that sweet spot where we're busy enough to have enjoyable and interesting work coming through our doors daily, but not so big and in debt to a bank or our vendors that we're pressured to take on projects that aren't in the best interests of our customers or pressured to sell and build bikes we ourselves wouldn't be excited to ride. By design, we aim to average only 5 to 6 people a day in the shop and that's how we like it - busy enough so we always have projects on our plate, but not so much that we don't enjoy ourselves. In case you're wondering how we stay in business with such an anti-business business pan - the easiest way to sum it up would be to say, 'we aim to make money, we just don't need to make all the money'.
You also won't find the typical stack-em-high, sell-em-low, sales-focused atmosphere so pervasive in the regional chains either. If you're a positive, friendly, people-focused person down to your DNA, you may just find starting work at MBW to be as comfortable as putting on your favorite pair of shearling lined slippers.
Unlike most shops, we operate with a fairly equitable pay structure, so a highly talented person who is performing in the role of a combined mechanic /sales person will probably be making similar to someone who is overseeing the general admin of the shop and doesn't get quite as greasy. The addition of the quarterly Profit Sharing bonus on top of our employees base pay (once eligible) is the fairest way we have been able to come up with to ensure that there is a direct relationship between the hard work and life energy an employee gives to the business and the amount of $ that is shared back out to them. It also ensures that there is no upper limit as to how much an employee can earn.
If you really enjoy the cycling industry and you prioritize the amount of enjoyment your job gives you then you will be hard pressed to find a place with more long term potential than the little retail store we've built down here in Saco. As lifelong bike shop nerds ourselves, we've consciously sought to maximizes all the fun aspects about working in a bike shop and have sought to minimize all the unnecessary things which can make working in a traditional retail shop a grind.
We've set this shop up to be centered around making MBW an enjoyable place to spin wrenches / talk bikes and as a lifelong bike mechanic and retail worker myself, it's always on my mind to find ways to better compensate our employees for the business's continued success. The showroom is open Wed to Sat 10 to 5, so plan on circa 30 hours a week to start, though once you are comfortable with the way we do biz here, extra hours are usually available if you need more $ on the regular. At some point we may officially end up adding a few extra days to the showroom opening times which will mean circa 40ish hours a week, but I've successfully resisted this for 8 years so far. The successful candidate will need to work at least one day on the weekends as this is retail after all, but for the past 8 years, I've done everything I could to keep from needing to open on Sundays to give us 3 straight days off to spend time with our families.
Unlike most shops, we spend 80% of our day chatting with folks by e-mail and phone about their bike projects so, not only will you need to have kick-butt bike mechanic skills, the ideal candidate will need to either have a deep knowledge of all things bikey or a real fire within to learn about the various brands we represent and all the fun custom types of bikes we build for folks. An interest in touring, bikepacking and adventure biking is a real plus. The ability for communicate this knowledge in writing and in a timely manner using email is also super important so windows computer and typing skills are at the top of our priority lists alongside the ability to navigate the various supplier b2b's we work with daily.
I always like to mention that all of the above is a two way street. New hire are encouraged to give MBW a trial period as we want you to be happy where you work and if at any time it isn't working out, just let us know - no hard feelings. Life is a heck of a lot easier when you surround yourself with folks enjoy being around.
what's the closing date?
Whenever we find the perfect match for our customers and shop. We'd can start the right applicant as soon as tomorrow, historically however, we've been very picky about who we'll ask to represent Maine Bike Works so we are willing to wait. If this rambling job posting is still up, get applying as we'd love to hear from you.]
How to apply:
If you think you'd fit the bill, applying is as easy as reaching out right now.
TO APPLY
. Send me (Jason) an email at
- be sure to outline your previous experiences getting paid to work on bikes, your strengths and weaknesses as a mechanic, the types of riding you really get excited about etc.
TOP TIP #1
: This is your opportunity to sell yourself and it's the only resource we'll have to judge your communication skills as the role will have a lot of interaction with remote customers over the phone and by email, so it's worth putting a little effort in it.
TOP TIP #2
: As this role requires someone who can hit the ground running, you'll definitely need to have have recent experience getting paid to work on bikes in a bike shop for us to consider your application and as much as people would like to think that their time spent working on cars / motorcycles / trains (real story) equates to having the specialist skills us bike mechanics have learned, with all due respect, they are not. Same goes for advanced degrees in electrical and / or mechanical engineering and those summers you spent working on bikes as a kid (once again with all respect). So please keep this half-tongue-in-cheek in advice in mind before applying as this is an advanced position and not a first-time-working-in-a-bike-shop position.
TOP TIP #3
: This role probably won't make sense money and life energy-wise if you don't live within 25 miles of the shop. While we know folks who enjoy 100 mile round trip commutes, that's a terrible way to spend your limited time on this planet. Fortunately, for those of you who live more than a quick drive or a long bike ride away there are tons and tons of other awesome bike shops here in Maine who are also undoubtedly looking for good people as well so save yourself the burn out and investigate all the local options.
If you want to chat more about the job before you apply, just reach out by email. Just make sure you tell me a little about yourself in your introduction, so I know you have the minimum experience listed above.
Cheers!
Jason