MBW is proud to sell bikes from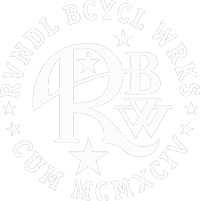 Rivendell Bicycle Works
for when the race ends and the fun begins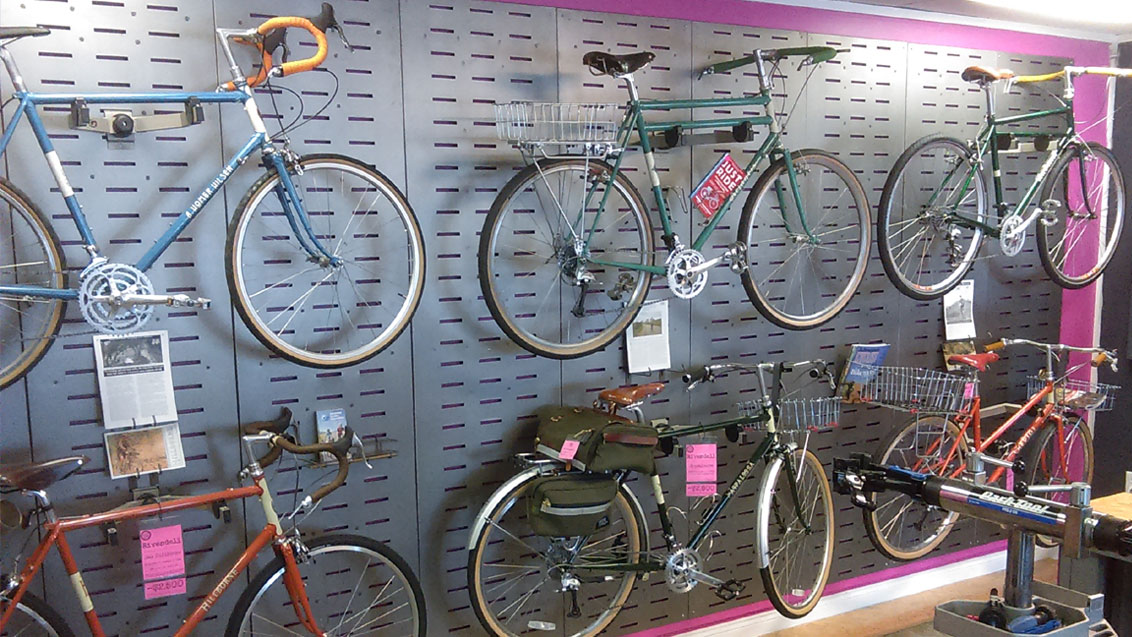 gettin' Rivy wit it
we all know that Rivendell Bicycle Works makes great bikes that ride like no other, but sometimes choosing a specific Rivendell can be daunting as their bikes are so damn versatile that often two or three of their models will do what you want to do. we get that and we're here to hold your hand until you get up to speed. while you can always order your bike directly from our colleagues at Rivendell, we'd like to think that as your local dealer, we can bring a little something extra to the party. like what? I hear you ask.
for starters, our prices are the same as if you ordered everything directly from Rivendell, but you get the added bonus of being able to touch, feel, test ride and probably borrow examples of their products before needing to make any decisions. as a Rivendell dealer we stock or can get you any of the frames, complete bikes or Rivy related gear you see on their website. some of the more popular items are listed below, but check out their site too for all their toys.
if you are new to the world of Rivendell, stop in and we'll be happy to walk you through what we call MBW Rivendell 101 - our cliff noted version of the Riv universe. we'll measure your PBH (public bone height) to determine which frame and wheel sizes jibe with your needs and walk you through Riv's wonderfully ever-changing line up. rest assured that even though we've been working in bikes shops on and off over the last 25 years, we don't pretend to have all the answers, so if we have any doubts about what will meet your needs the best, we'll pull out the red batphone from under the counter and have a speakerphone powwow with you and our friends in Walnut Creek.
want to know how we'll help you choose your next n+1? just scroll down past the pictures for a short primer on how MBW may be a little different than what you're use to.
Rivendell's MUSA (made in the USA) frames
ok, the following are frame and fork combos are made specifically for each customer once we place our order with Rivendell. there really isn't a singular way to spec them out, so the pics below are merely stake in the ground to start your creative juices, but don't worry as we'll help you choose what's best for the bike and for your adventures. because they are made upon request, it takes anywhere from 3 to 6 months before the frames are brazed, painted and sent to us here at MBW. that's not a big deal really because we can use that time to collaboratively nail down the list of parts and accessories you want to hang off of it. when the frame arrives, MBW will spend 8 to 30 hours building up your bike. if you want to get greasy, we even offer a few build options where you can participate via a MBW-Build-Your-Own-Bike session. If you take us up on that, not only will you learn a hell of a lot about your bike and how it works, but you'll forever to point to it and say, "I built that!".
these MUSA (made in the USA) frames and fork combos run around $2,700. we've built complete bikes from these frames from anywhere from $4,600 to $8,500 depending on how fancy you want to get with blingy parts, essential accessories (racks, bags etc) and if you want a lot of tech like the ability to charge your cell phone from your wheels. racy road bikes like the Roadeo tend to be a little less accessorized, so plan on anywhere from $4,000-$6,000.
Rivendell's imported frames
the frame and fork combos for the Appaloosas, Hillbornes and Cheviots below run ~$1,400 and we can build you up a complete bike similar to what you see in the pics in the $2,600 to $3,300 range. frame and fork combos for the Clem Smith Jr.'s' are around $900 and stock complete Clems are ~$1,600. no matter which model you choose, we'd suggest you budget an additional $300-$500 for things like a you-specific leather saddle, fenders, racks or some bags to make your new bike real world ready.
a little ramble to tell you how MBW can help you find your next n+1
if you don't already know which one you want, stop in and let us ask you a few questions. once we have a clearer picture of your needs and dreams, we'll help you choose a model and decide if one of Riv's perfectly curated complete bikes will do the trick or if it would be worth it for you to splash out for a custom frame-up build.
to make things easy for you, we stock a few select models built up the way we would ride them that you can borrow and try out on your home turf at no charge. just call to ask what we currently have available and tell us something about yourself that convinces us you'll actually bring our bike back when you say you will. an unusual offer we know, but Rivendells aren't your usual bikes, nor is MBW your usual bike shop. we use these complete bikes as the basis to help you choose from the various designs, frame sizes, cockpits and component builds across the whole Rivendell line-up. once we've helped you nail down a specific frame or bike, we'll place an order for whatever size, color and component options you prefer. If Rivendell has it in stock, you'll probably be out riding your new bike in a week.
we love doing frame-up builds with customers above all else. so while MBW isn't stocking any of Riv's made to order / MUSA (made in the USA frames) such as the Hunqapillar, the MUSA Atlantis (ie the 'shortboard'), A. Homer Hilsen, and Roadeo we can get you one just as fast and for the same price as if you ordered directly from Rivendell. we've built all of these bikes in many sizes in the past and can probably arrange to borrow one from one of our awesome customers in your size if you want to check it out in person - just call ahead to give us enough time to make the arrangements. if you're interested in such an animal, ask us for an example built list for the frame style you are considering to get your creative juices flowing. we think you'll be impressed with the time and attention we give to these projects.
so what do you do if you want to fondle one of these American made frames before pulling the $2,400 trigger that starts the made to order process? that's where MBW is very fortunate to have a great bunch of local customers who with a little advance warning have volunteered to show off their own USA made Riv's we've built up. cool, huh?
we also have a functional display of all the handlebar and stem combinations that most Rivendell riders will try at some point in their cycling journeys and we can show you how to easily convert your bike between one style and another in less time that it takes for you to make a cup of coffee. this means, you can try any of our bikes with upright Nitto Bosco Bullmoose bar and thumb shifters one minute and a roadie oriented Nitto Noodle drop bars with bar end shifters the next. so, log off the review sites, clear your browser history and let your body tell you which one you like the most.
there are a exactly 1.73 million options when you have us build your dream Rivendell from the frame-up and while having choices is a good thing, don't let the sheer number of options paralyze you from reaching your goal of getting out riding. give us some input on what you like and don't like on a bike and let our experience guide you towards a comfortable, sensible build that you will love from day one. unless you have other thoughts in mind, we'll spec out a build based on our sincere beliefs that:
tire width is one of the, if not the, most important specs on a bike (wider is never wronger)
handlebar and stem height options are good (no one ever asks us to help them get more bent over or stretched out)
load carrying ability isn't just a bonus, it's a must (a bike should carry more than just it's rider - a rack, a basket or a big bag can change your life for the better)
components should be durable, easy to repair and just good enough for the job (if you want high-end bling, we do that on a daily basis as well, we just don't take you down that road by default)
time = $ (your time is worth something and so is ours. if you decide on a frame-up build you should know it's not unusual for us to spend 40 hours or more working with and for a customer behind the scenes before the dream bike can be ridden away, so we like to point out that frame-up builds can be expensive when compared to the relatively inexpensive process of buying an off the shelf bike from any of the other 44 brands we can get. that said, a frame-up build at MBW won't cost you any more than having it spec'd out and built by any of our fellow professionals at the other Rivendell dealers.
dreaming about your next Rivendell can be fun and we aim to be the type of people you can trust with those dreams.
oh yeah, one last thing. we often hear "what's the deal with all the extra tubes I see on the bigger Rivendell frames?" simple really. Riv sticks them on because taller riders have bikes made up with big triangles and the extra tubes make those triangles smaller and the end result is a stiffer, nicer riding frame cause it can use lighter tubing then if they didn't. fun fact, though the extra tubes on the big bikes are visually interesting, they aren't needed or available on their small to medium frames.
the rabbit hole
as a small and nimble company, Rivendell is constantly coming out with new and exciting stuff.
the next time you're at work, get up-to-date with the following resources: